10/03/2022
Why linen clothes are always in fashion?
Share
What is linen?
The vast majority of the clothing items we wear today are man-made or chemically intensive to produce. Meanwhile, linen is a natural fabric made from the flax plant that does not require fertilizers or pesticides to grow. It is a renewable source not damaging the environment. Every part of the flax plant can be used to create a worthwhile product meaning nothing is wasted. Aside from being strong, durable, and breathable, linen has many other fascinating qualities loved and appreciated even centuries before us. Excellent products made from linen are premium quality, last a long time, and are always in fashion.
Why linen is so popular?
Linen fabric guarantees comfortable to wear through all seasons because of a cool feeling in summer and pleasant warmth in the winter. It has an outstanding moisture absorbance – it can absorb up to 20 percent of its weight before it feels damp. This quality comes in handy on a hot summer day because it prevents sweat lines and uncomfortable damp feelings. While other materials get worn out through time, surprisingly, linen maintains its impeccable quality and gets even softer with each wear and wash.
Due to its thermo-regulating, antibacterial and non-allergenic qualities, linen is suitable for those with skin allergies or sensitivities. And of course, kids! Linen is also more sustainable compared to other fabrics: it uses less water, lasts much longer, and does not need to be washed often. There's also no plastic in this natural material, so no microplastics will be washed into the sea when you wash it. Do we need to say more? Linen is an ideal fabric for everyone and everything.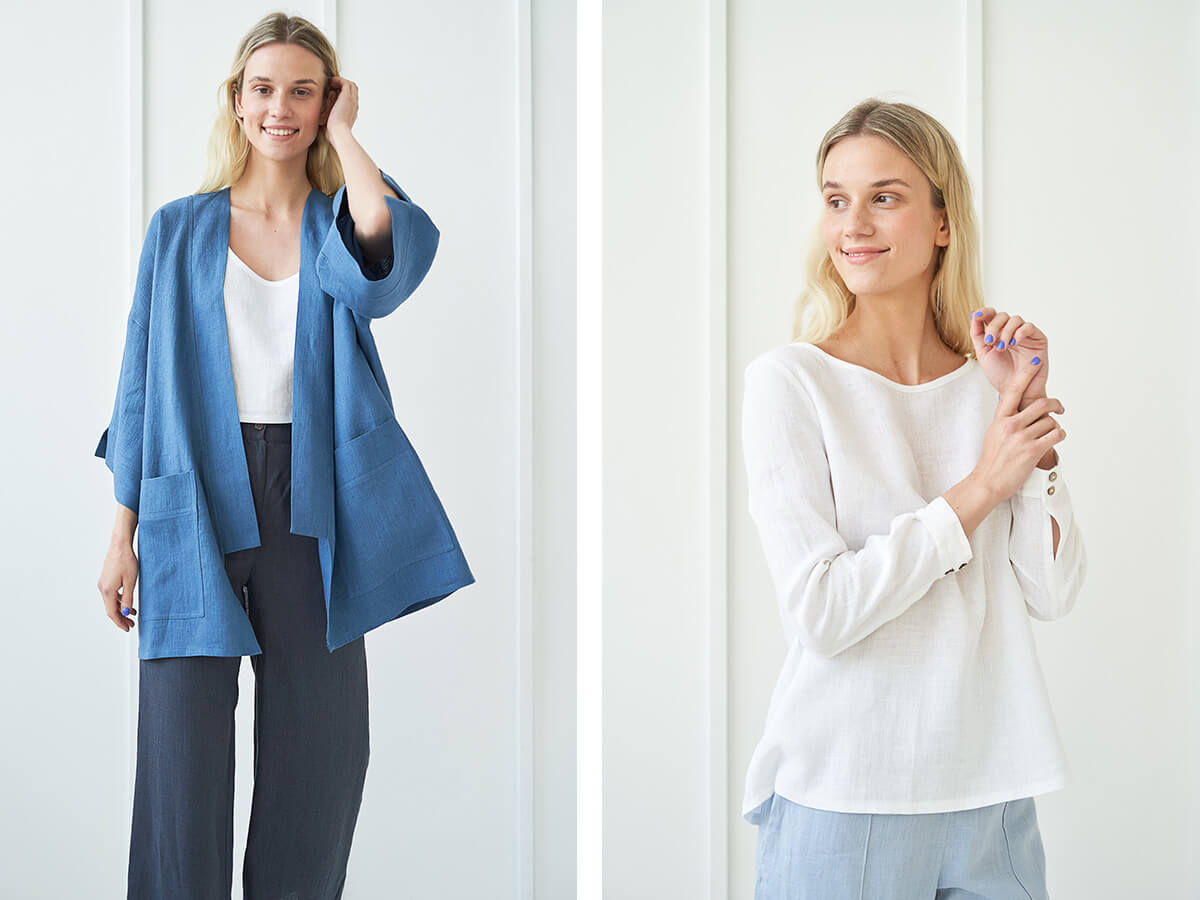 What are the possible uses of linen?
Linen is the oldest fabric used by humans – this only proves that there are endless ways to make use of it. Naturally stain repellant fabric works wonders in the kitchen: for towels, aprons, napkins, or tablecloths. Since linen dries more quickly, it does not allow bacteria to accumulate in the cloth, it also absorbs well. Flax linen is also highly appreciated for bedding.  The fabric does not stick to the skin and provides airy, comfortable all-night sleep. It is so soft that you will get the tension of sleeping on the cloud. There's no surprise that linen is mostly used to create timeless, high-end clothing items for both men and women. There are endless possibilities to use linen as it never fails to outstand with its quality and unique crispiness.
Why is linen considered the luxury of clothing?
Luxury is not just about the price point. Linen is a desirable fabric because of its durability. That allows to pass linen products from generation to generation with the same impeccable quality. This lovely tradition brings sentimental value to the fabric. Although it is an investment, linen garment is much more efficient and cheaper in the long run. For example, building a capsule wardrobe from linen would help save a lot of time and money since the fabric is easy to maintain and extremely long-lasting.
Linen also has a unique, luxurious, crispy texture that makes it stand out from other fabrics. The weave of the fabric is thicker meaning it takes the dye well, so softened linen fabric looks cozy and vibrant making linen clothes a topic of conversation. Now that more and more people are caring about their health, linen becomes a number one choice to keep it in a good condition. Fabric can easily be called the healthiest material out there. It has anti-static characteristics that make it more resistant to stain and dust and could also be used for UV protection. It is proven to reduce radiation impact by half. Being easy to take care of, linen makes a great travel companion. Linen clothes will consume little space in the luggage, could be washed by hand, and air-dried in just 20 minutes.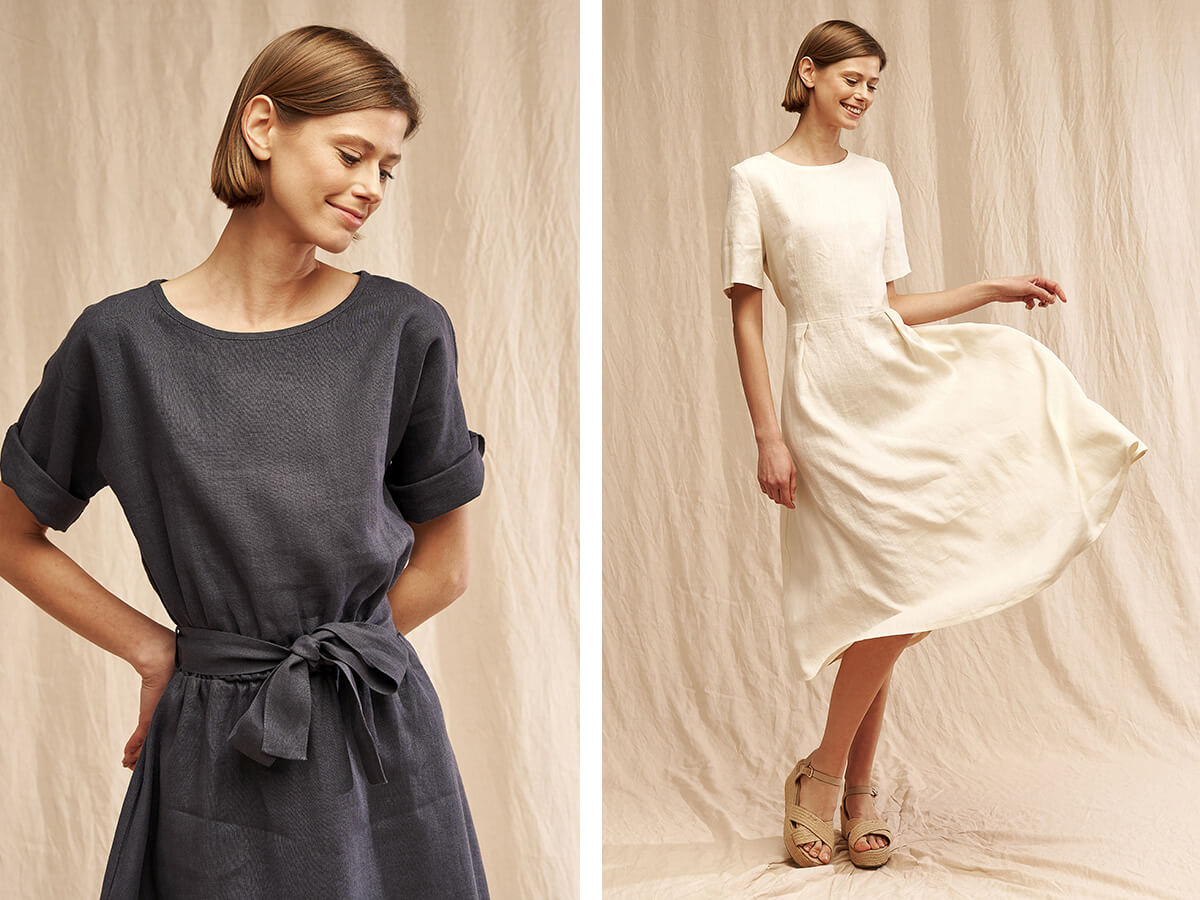 What is the impact of linen clothing on sustainable fashion?
Linen is made from the flax plant, a plant that grows without the need for fertilizers or pesticides. This means it is a renewable resource, one that is fast growing and can be produced without damaging the environment. We all know that water is the main source needed to grow and process natural fabrics. The good news is, linen needs 60 % less water compared to cotton, and it can also grow in poor soil. This authentic fabric is also cost-effective because each part of the flax plant can be used in production.
What is more, it is fully biodegradable so linen clothes will never end up piling the landfills. Because it is highly absorbent, linen does not hold bacteria meaning your clothes won't get smelly and will require less frequent washing. The less often you wash your clothes, the longer your clothes will last, and the more sustainable your wardrobe will be. By choosing linen clothing, you not only make a healthier choice for yourself but our world too. Linen use contributes to a more conscious and sustainable fashion approach. Which is why it is so popular among slow and sustainable fashion creators.
Why is linen popular among fashion designers? 
Sustainability is becoming more and more popular in the fashion industry so linen, is receiving more recognition than ever. Fashion designers understand that the choice of materials is crucial in staying relevant and going for more conscious ways to produce fashion, so they choose linen because it is a renewable source. Not only that of course. It is also breathable, soft, comfortable, cool, and luxurious. With such demand for linen, it becomes the trendiest fabric, and investing in premium-quality yields an excellent and cost-effective product that will look beautiful for years. Such popular fashion houses as Dior, Prada, Gucci, etc. implement linen into their collections often and assure that their designs are always the talk of the show.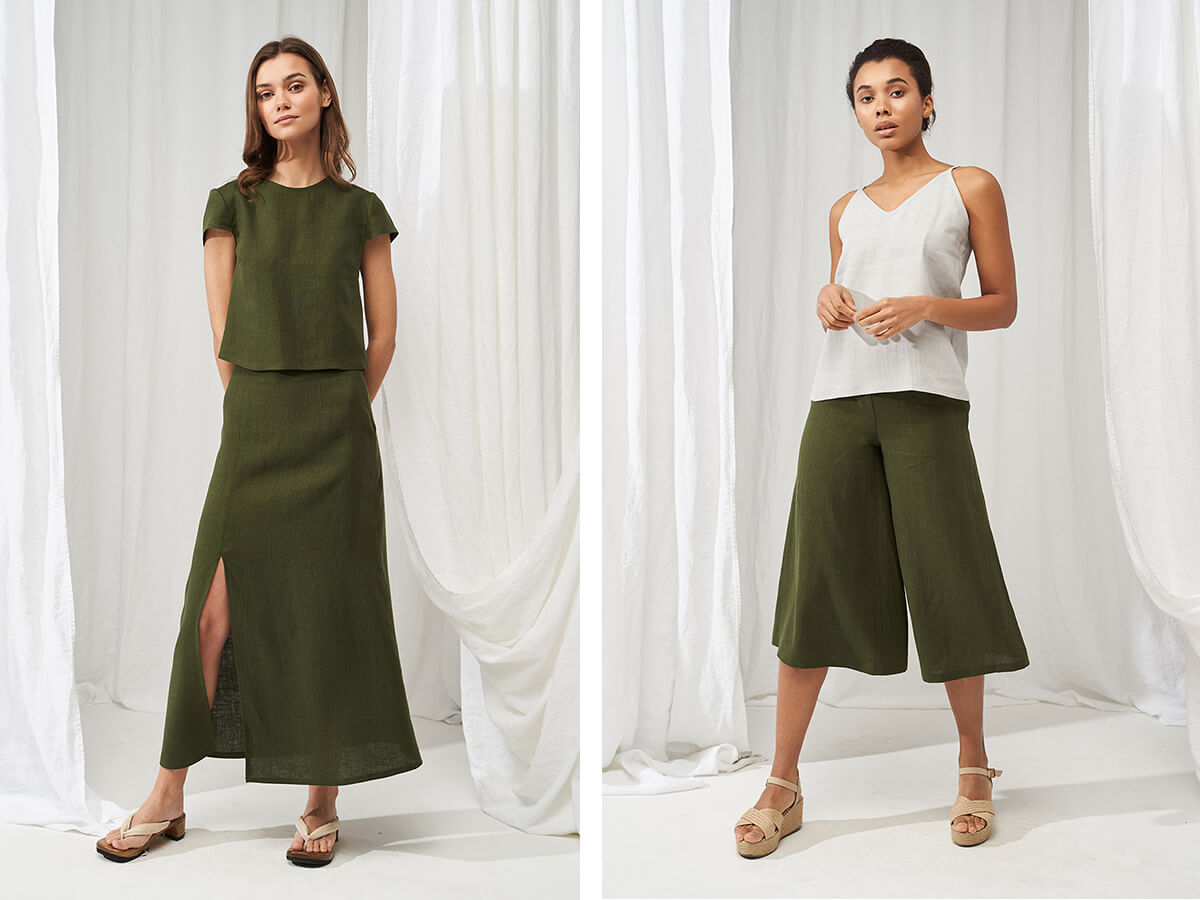 Why should you try linen clothing?
Linen clothes are a definite investment although that should not be a setback. Material may seem pricy but in reality, linen clothes make it easy to save money in the long run. Stain repellant fabric needs less frequent washing and stays impeccable quality even after many wears and washes. You can forget about precise linen care because it does not need fancy products or expensive tumble dryers. You can use mild washing products and simply hang your linen clothing outside – they will be nice and dry in 20 minutes.
Although linen clothes are known for creasing easily, we see this unique quality as one of their's loveliest tendencies. It does not require ironing and helps save the bill of electricity as well. If you prefer your clothes crease-free, spritz your linen clothing item will a bit of water and the crease will be gone in no time. Another great aspect of linen is how it makes preparing for travels and trips incredibly easy. Instead of folding your linen clothes, roll them to save space in your luggage, hang them as soon as you arrive, and you will have an effortlessly  fashionable outfit each time. 
We think you might like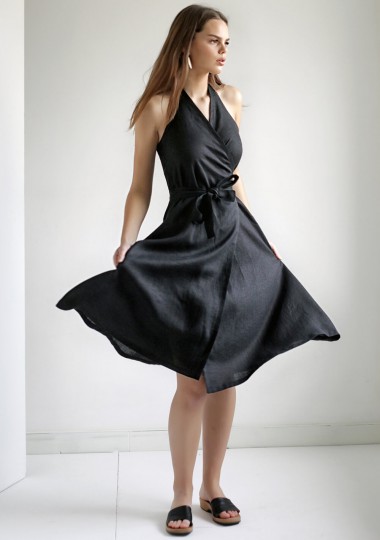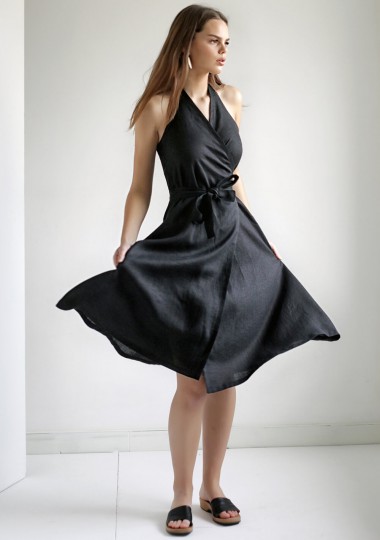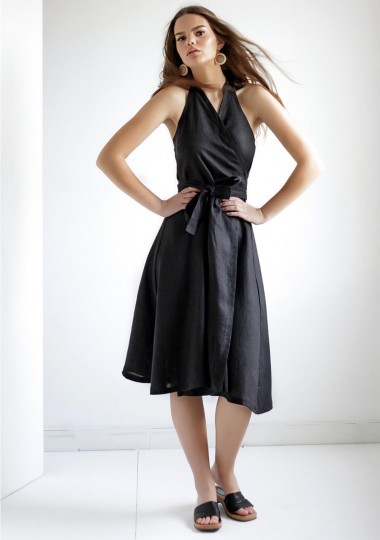 Linen halter dress Hazel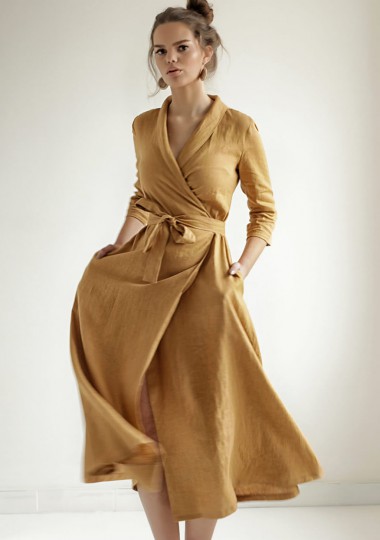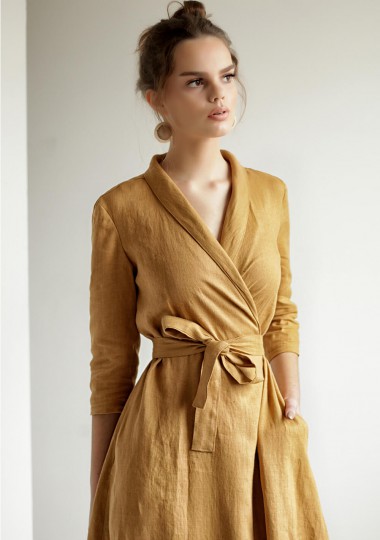 Linen wrap dress Marlena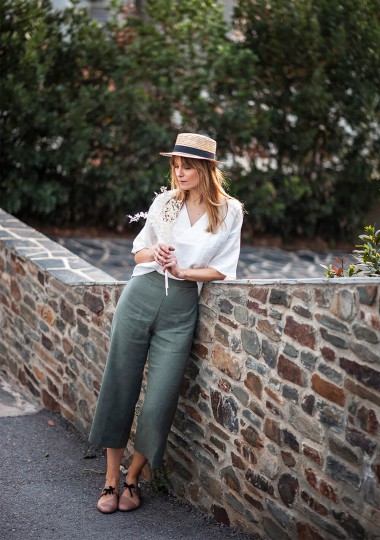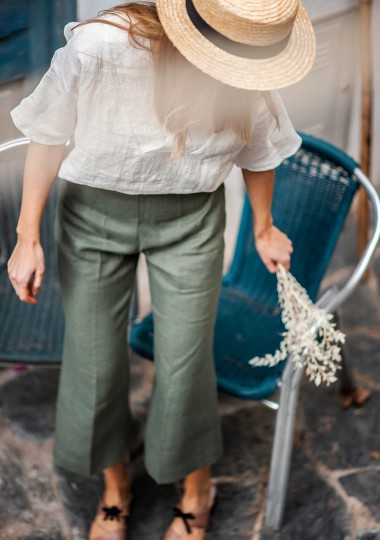 Linen pants Riley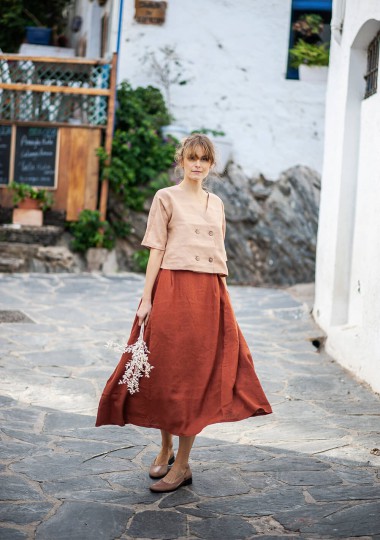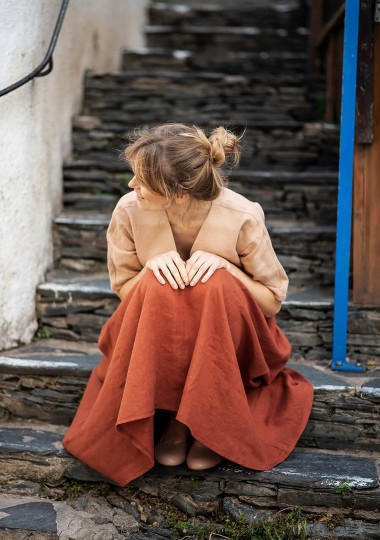 Linen skirt Florence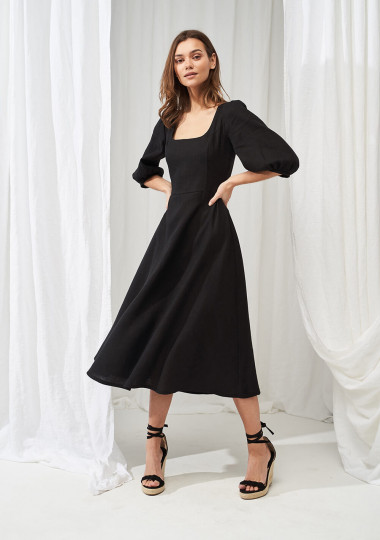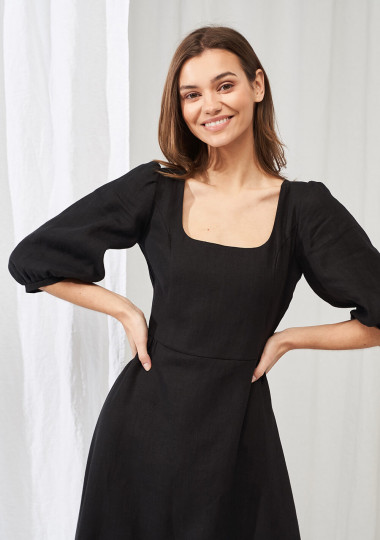 Puff sleeve linen dress Aurora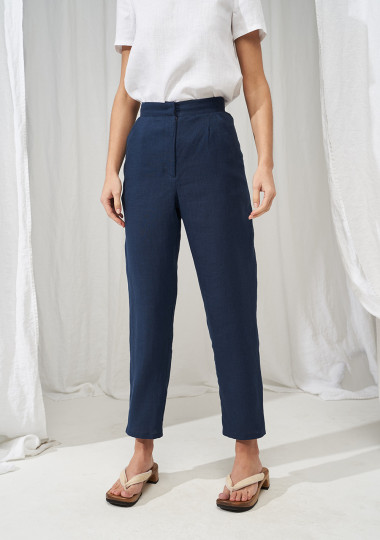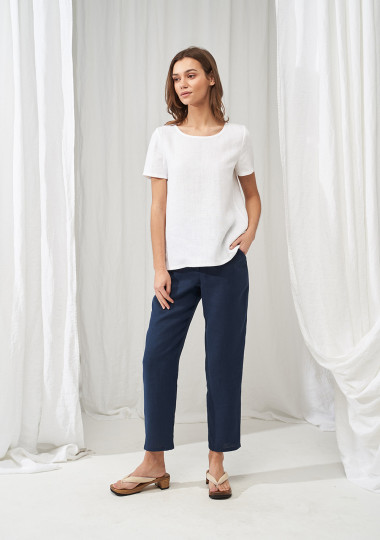 High waisted linen pants Delaney