Hello, dear conscious summer chaser,
My name is Laura, and I am a mother of two kids. I live in Klaipeda, the beautiful seaport of Lithuania. I love the sea. I love natural products. I am passionate about sustainability. And I truly love LINEN clothes … I am a conscious summer chaser, too. I'm glad to see you here, and want to welcome you to our community. I believe now is the perfect time to share the story of Linen Handmade Studio's beginning and how it is today.
It all started in my early childhood. My mother was a seamstress, so I spent many hours with her in her studio. My passion was creating clothes for my dolls. It actually was my first small business as my girlfriends started asking me to create some clothes for their dolls, too. When I was in high school, I loved attending various art classes and creative workshops. I started tailoring personalized style clothes for my friends and designed some theatre costumes, too. After school, I studied costume design. During that period, I tailored so many clothes that it was too many to count…. This was my TRUE passion. After my second child, I finally realized it was time to start my own business, which was my secret dream since my early childhood. A memory of my grandmother's wardrobe with a special section for linen tablecloths was my inspiration. Linen is a Lithuanian heritage, and historically, Lithuanians recognized linen not only as a material for the healing value of the plant, but also as having magical properties. It was and still is a symbol of wellbeing and harmony.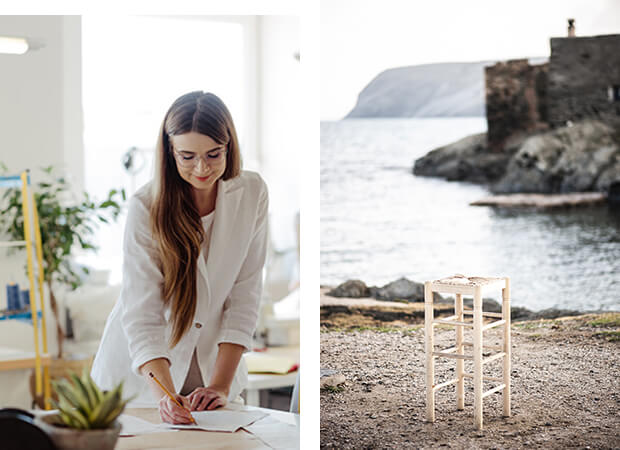 In the beginning, I had a BIG dream and passion. At that time, I didn't have many collections or well-designed marketing campaigns. My start was very natural and organic. One day, I woke up and decided to drive to another town in search of the perfect linen fabric, and said nothing to anyone. I created the first trial linen attire, did some photoshoots, and sketched the future designs over and over again. And all of that was done during my little spare time while looking after my kids. I simply was "one-man orchestra". Even though it was a big challenge, I LOVED it so much. These memories are something very special to me that motivates and drives me to move forward.
The number of orders increased slowly together with customers' love for handmade linen attire.They TRUSTED me and my brand. Due to the increased demand, I started working together with my mother, and later, a few more seamstresses joined our team, but we were all still working from home. I noticed that I spent more hours driving back and forth to visit them than actually preparing/designing/sketching/producing linen wear. As a result, three years ago, we decided to open our first studio located near the Curonian lagoon in Klaipeda. From that moment forward, we felt that we were expanding our creative horizons, developing ourselves professionally, taking care of each other and, most importantly, creating a strong customers' community who value sustainability, handmade products, sea, linen, femininity, quality and the longevity of our wear.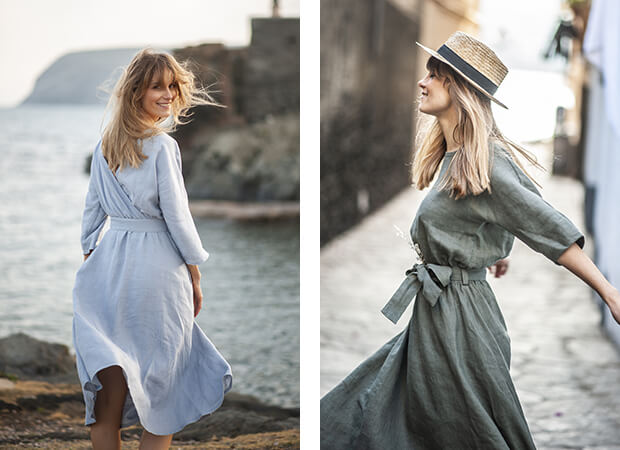 Today, Linen Handmade Studio brand consists of values that our team has developed over all these years and appreciates the most.
Linen Handmade Studio is where...
We read your feedback about the linen wear we've created together with all our team to celebrate your love.
We dare to ask you what would be the next linen resort wear and how can we help you? We listen, customize and seek to offer the perfect fit.
We combine heritage, authenticity, sea, nature, sustainability, and comfortability.
We celebrate femininity and freedom by choosing natural products.
We want to inspire you to value the quality of linen as a "new normal" for casual and occasional wear with all its imperfections (in our minds, it makes linen even more unique). Every detail matters.
We carefully design each sewing pattern to look most flattering and feel most comfortable. Each piece is made from the finest, OEKO-TEX standards certified linen.
We create the lifetime linen products that we wear ourselves, too.
We all belong to one big conscious summer chasers' community and each of us can be an impactful earth-friendly change-maker.
Dear curious wanderers, sustainability heroes, and conscious summer chasers,
THANK YOU for joining our community. We cherish your support and love you from the bottom of our hearts. Stay true to yourself!
Laura and the team