07/24/2022
Travel capsule wardrobe: styling and packing tips and tricks
Share
Who does not love traveling? Whether it is lounging by the pool in a nice hotel, exploring exotic locations around the globe or just a road trip to a different town for the weekend. Wandering and collecting memories wouldn't be as pleasant and as enjoyable without a carefully builded stylish travel capsule wardrobe to keep you comfy and cool every step of the way. Surely, there is nothing that could even come close to the comfort linen clothes provide, especially during travels. In this post, we will give you styling and packing tips on how to pack and wear your favorite linen travel clothes in style and comfort. To minimize the effort and maximize the fun!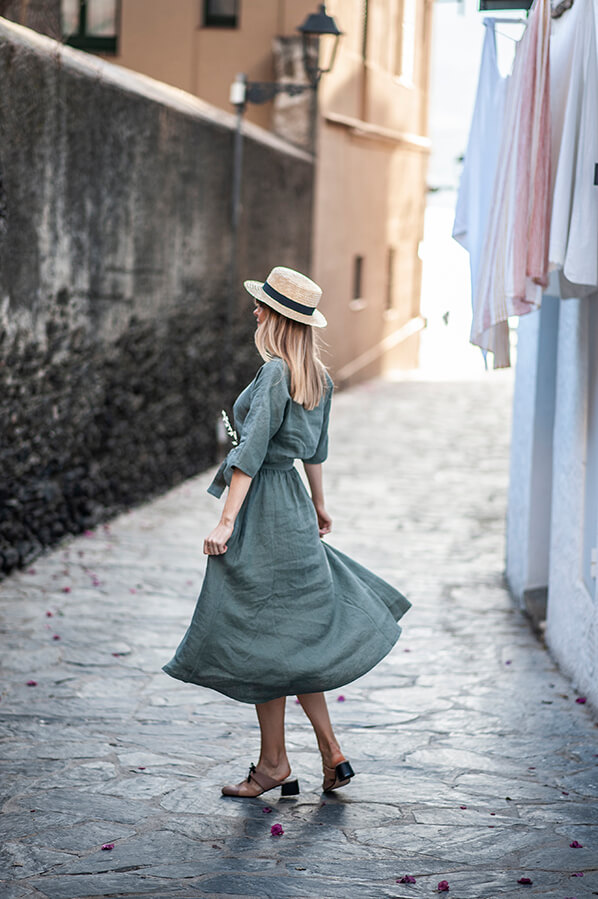 Why should you choose linen clothes for travelling?
When we think about traveling, we all clearly want to think less about the outfits we wear. We want to invest our expensive time exploring, wandering, collecting memories, and having fun. No one wants to be stuck in a hotel ironing clothes, being scared to eat ice-cream because the dress might get ruined, etc. Here's when building a travel capsule wardrobe from linen come in handy. Linen travel outfits are the best clothing for travel simply because they don't require ironing, are naturally stain repellent and absorb a lot of moisture before even feeling damp. Aside from keeping your body nice and cool, linen also has a distinctive crispy look that stands out from other fabrics. It is a number one choice for traveling because it is effortless, easy to take care for and exquisitely stylish. All that we need when we travel, right? Linen fabric is also hypoallergenic and completely safe to wear for everyone, including people with allergies, skin sensitivities or diseases. This incredible fabric stays detached from your skin and provides an airy, lightweight, and relaxing feeling.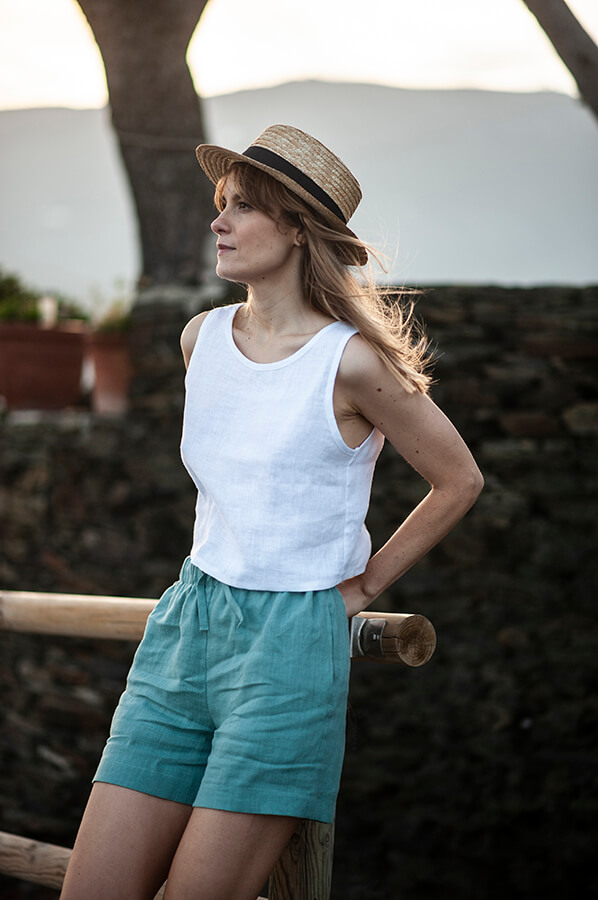 How can I look stylish when travelling?
Looking stylish and chic on your travels is possible even if you only take 5 clothing items with you. However, there are a few points to bear in mind. Clothes are your base so opt for high-quality materials that look put-together and luxurious. At least 70 percent of your travel capsule wardrobe should be basics, not trendy or statement pieces. It will allow you to create astonishing number of outfits for daytime and nighttime. For instance, a simple white linen travel dress paired with sneakers will work nicely for exploring in the city and turn into perfect evening look when paired with heels and a touch of accessories. Relaxed fit shorts are a summer travel staple that looks great with button-down shirts, simple blouses and many more pieces. Choose designs and colors that are easily compatible with other clothes in your suitcase. If unsure, know that monochromatic or similar shade items always look chic and elegant. You can't go wrong with all white, all beige or all black. Spice up your look with an interesting pair of shoes, magnificent jewelry, or a statement head piece. Anything that attracts attention and takes the outfit to another level. Sometimes, even the simplest outfit can shine the brightest with the right touch of accessories. Don't forget your sunglasses – they are supposed to be your best companion. Not only they protect your eyes from the scorching sun, but they look stylish and summery too.
What should you add to your stylish travel capsule wardrobe?
Best vacation outfits are the ones that are simple and easy to create. Always start with the basics. To name a few: comfortable pair of polished pants, simple white dress, plain t-shirt in a neutral color, little black dress, loose drawstrings shorts, elegant maxi skirt, and chic linen blouse. These are travel friendly linen clothes that go well together and pair nicely with the rest of your wardrove. For example, pair your linen pants with a simple t-shirt for a day in the city or elegant top when having drinks at the bar later. A simple white dress can work for the beach at the daytime, when shopping in a city center or when going for drinks in the local bar. Dress it up or down with jewelry and shoes. Wear your plain t-shirt with shorts for a daytime look and a maxi skirt for the effective evening outfit. These are just a few options, but you will surely find more that will work best for you. Shoes are also a great way to elevate the look. Pack at least one pair of sneakers, sandals, and heels. The combo of those three will meet all of your travel needs. Bags are also important but if you want to save space, choose a versatile bag that is easy to carry and a beach bag that fits all your necessities. Don't forget a stylish hat and a lightweight scarf – sun might be shining in full force, so it is crucial to keep yourself protected.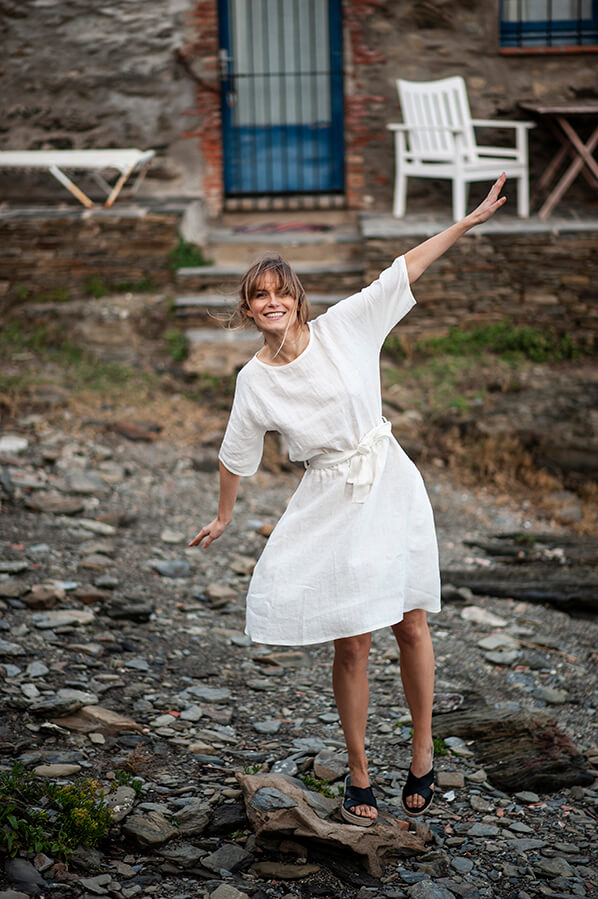 What outfit is best to wear on a plane?
Remember, comfort comes first, but there are still some aspects to consider. To create best linen travel outfits to wear on the plane, take loose linen pants (preferably, with a drawstring or an elastic waist) and pair them with a simple linen shirt (preferably short or ¾ sleeves). Top off the look with a loose cardigan or your favorite sweater that will keep your body warm in case it gets chilly, or you just want to wrap around for comfort. For the shoes, any sneakers will do the job. The key is to choose comfortable shoes that you definitely wore before so your feet wouldn't start hurting after a few hours. People tend to think about the location they are traveling to but forget that they will spend quite a time in the plane too. Stay away from open-toe shoes and make sure to have a cardigan, sweater, or anything else to cover up because it may get cold in the plain, especially if you decide to take a nap and relax for a minute. Linen dresses, shorts or skirts are also incredibly comfortable, however, having in mind hygiene aspects, it is best to minimize the possibility of your skin touching surfaces of the plain. Also, plains are generally chilly, so you risk catching a cold wearing shorts or miniskirts.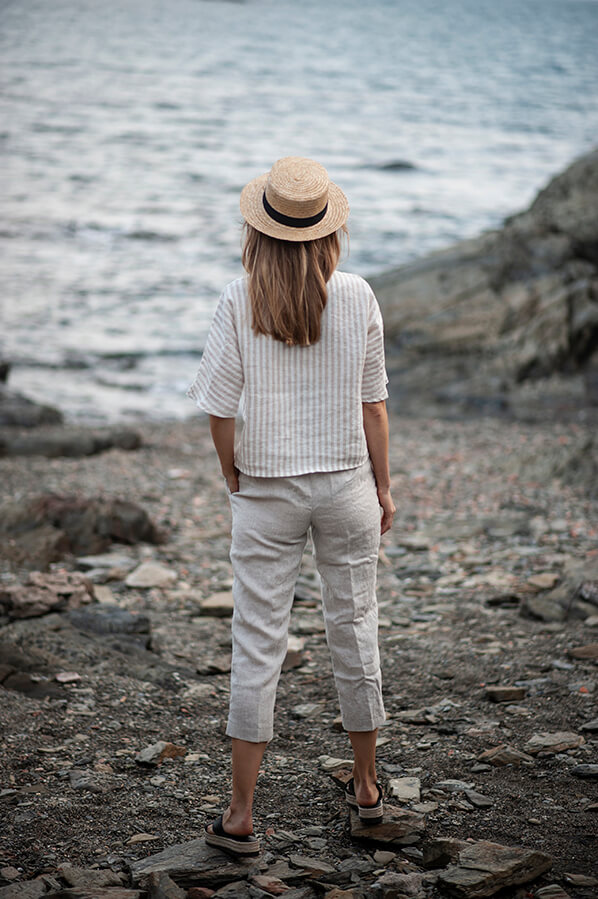 How can I pack for my travels effectively?
Save time and effort by only packing what you truly need. Plan your summer vacation outfits ahead, write them down if needed to keep the track of what needs to be in your suitcase. Only pack items you love and wear often – travels are not quite the place for experiments so it is important to trust the clothes you will wear. Choose outfits made from natural and breathable materials (like linen) to keep your body nice and cool. We adore linen's wrinkles but if you prefer your clothes nice, and wrinkle-free, roll them up instead of holding them to prevent harsh lines. Another great tip is to hang your clothing pieces as soon as you arrive at the hotel. It will help you see all the outfit options you have and also help to smooth out the wrinkles. If hanging your clothes out doesn't work, spray some water, and leave to dry. Linen dries extremely fast, and you will have smooth and refreshed clothing shortly.
Choosing the best linen travel outfits and packing a suitcase is an inevitable part of every trip we take. No matter how much we delay that! We hope that this guide was informative and helpful, and your next suitcase will be packed with much more thought, attention, and your linen travel capsule wardrobe will make you feel comfortable while still looking gorgeous and chic. Remember, it is much easier to enjoy the nicest locations and unbelievable locations when you wear natural and timeless clothing. If you have tips or ideas to share, feel free to reach out.
We think you might like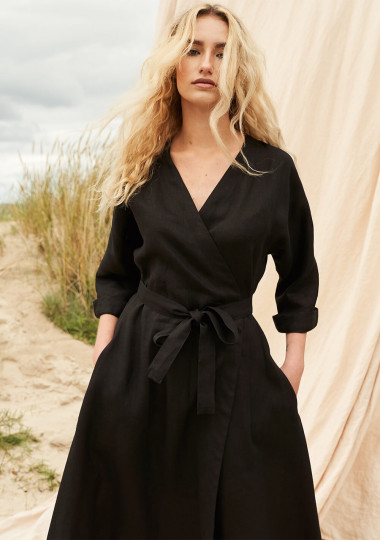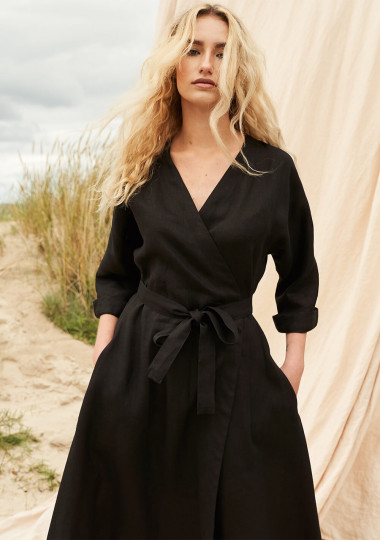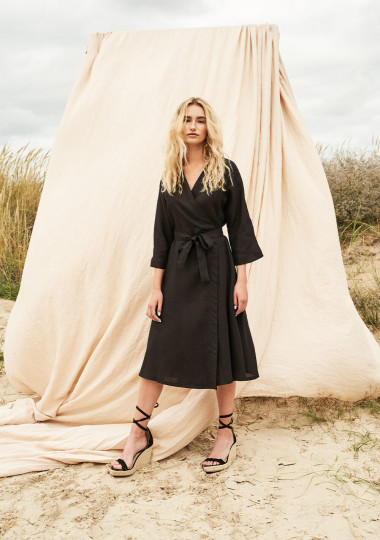 Long linen wrap dress Thalia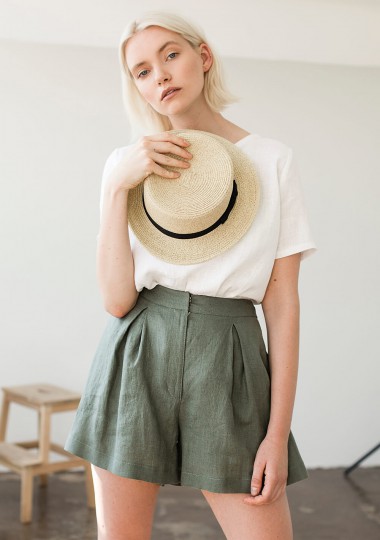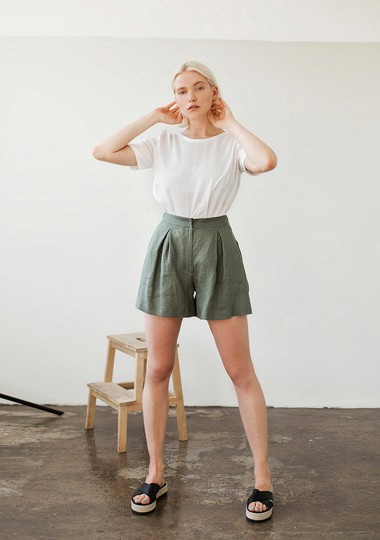 Linen shorts Agnes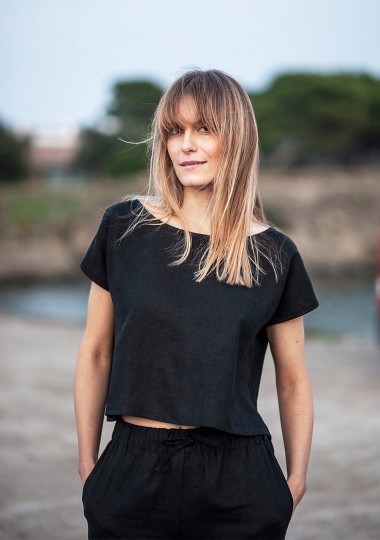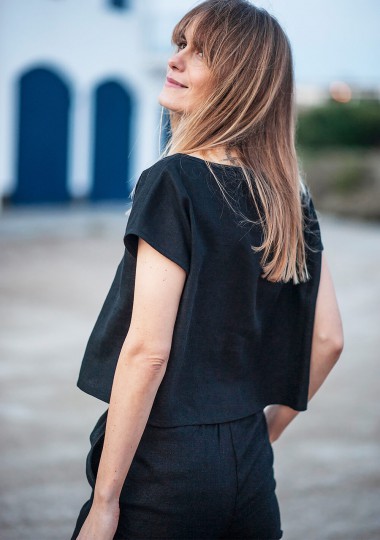 Linen crop top Berlin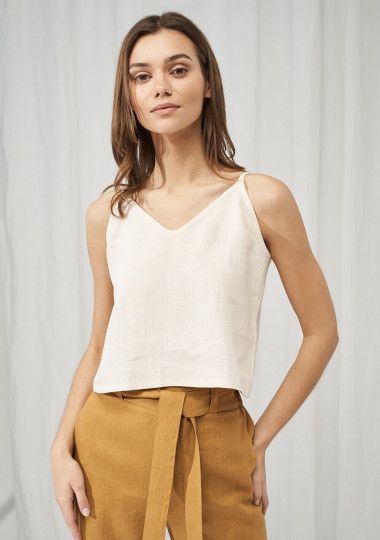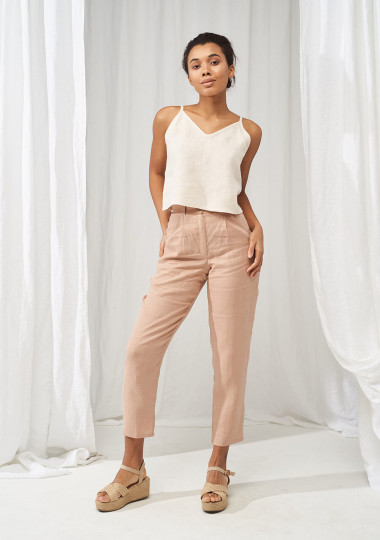 Linen crop top Ivy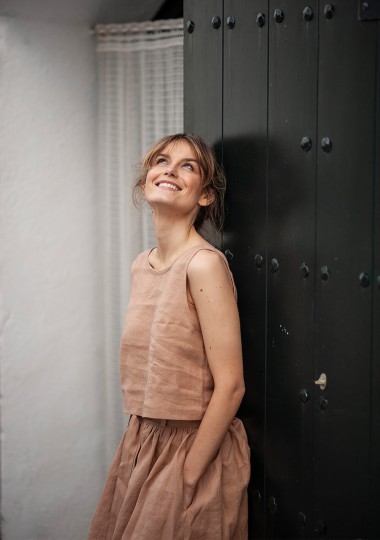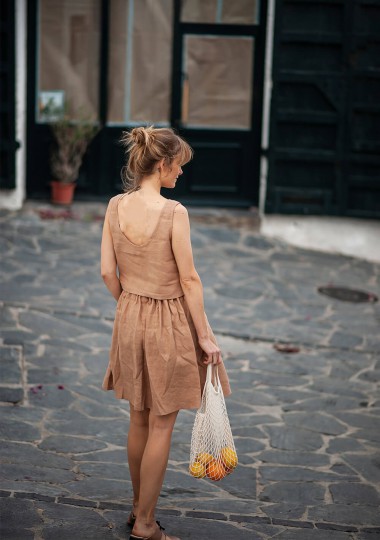 Linen crop top Leigh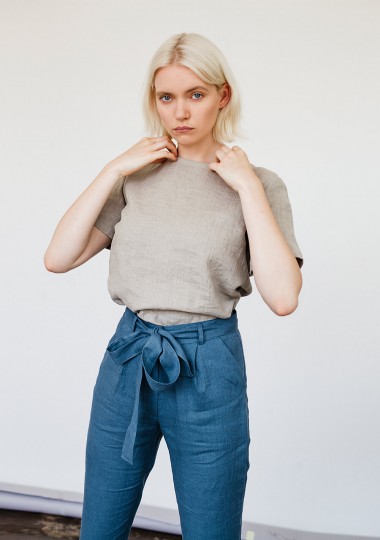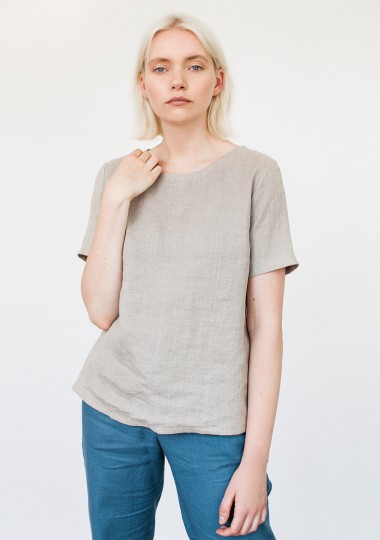 Linen T-shirt Yuna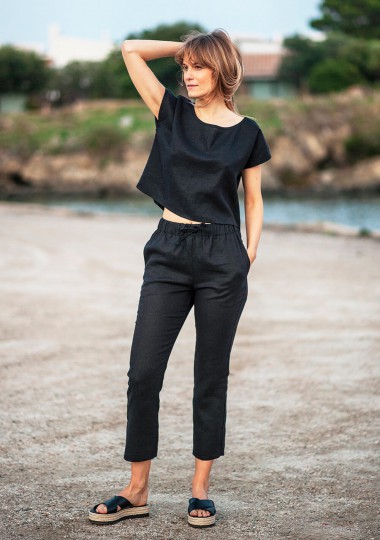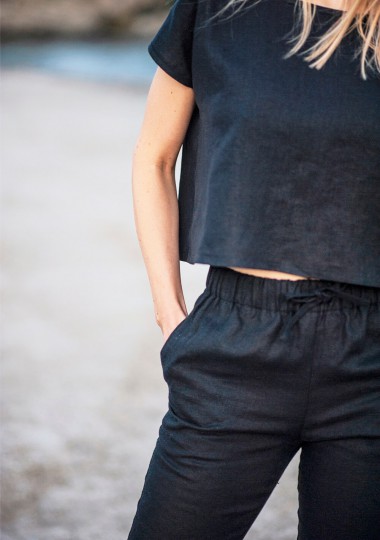 Linen pants Kaia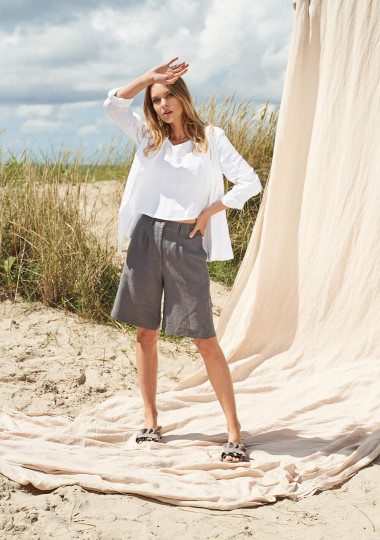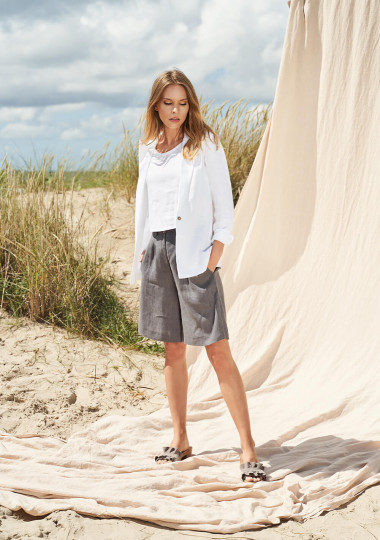 Linen bermuda shorts Gemma