Quality
We passionately define our quality standards so our garments could be worn well and often. What does high quality linen look like? The fabric is strong, durable yet soft and smooth. It needs to stand up to washing and retain its shape. It feels great to wear, gets softer along the way you are wearing it and gets even better with time.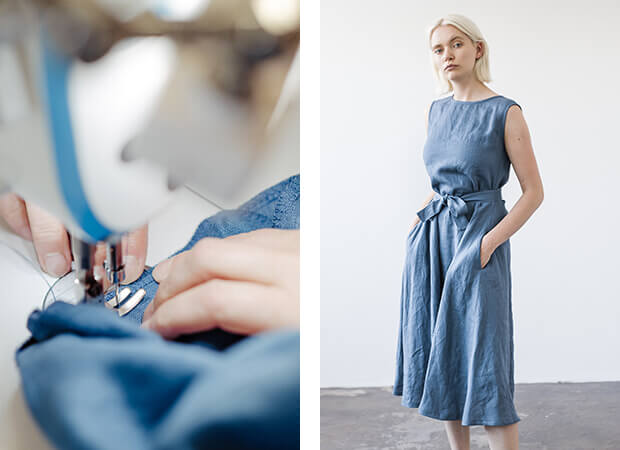 OEKO - TEX
It is important for us to guarantee that our linen clothes are absolutely safe to wear. That is why we get our linen from our local manufacturers only. Pure linen clothing we make is also OEKO-TEX standard 100 certified which simply means that there are no harmful chemicals used in the production process of it. No kind of allergic reactions are caused using linen and it is also helpful in treating a number of allergic disorders.

Sustainability
Linen is a a hero of all natural sustainable fabrics, because of it's low impact. One of the main benefits is that flax does not require intensive irrigation in growing and so it needs 60 % less water, 18 % less energy, 5 times less fertilizers and pesticides to grow compared to cotton. It is biodegradable and durable.

Our traditions
Lithuania has long-lasting traditions in producing high quality linen. History of our manufacturers producing this fabric goes back to centuries. For many decades of growing and observing linen, Lithuanians perceived not only the material and healing value of the plant but also awarded linen with extraterrestrial properties. It was a symbol of well- being, harmony and purity. We grew up with these traditions so love and appreciation for this fabric became a natural and instinctive feeling.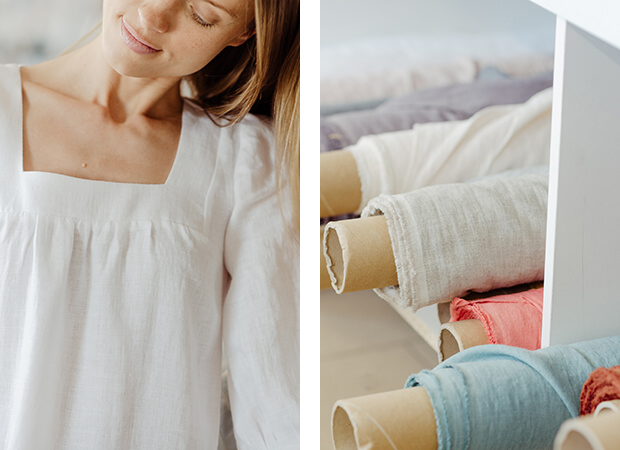 Even better with time
You will be able to live in Linen Handmade Studio clothes for years to come. The garment will last you a long time because linen is durable and gets even better with time. We take our quality and craftmanship seriously, that is why our clothes can be worn well and often.

Density
We use medium weight linen fabric that is around 180 g per square meter. Fabric density is just perfect for providing breeziness and lightness yet creating soft drapes on flowy silhouettes.
See through or not?
Light colours, such as Optic White or Ivory might be a bit see-through though not completely transparent. There should be no problem if you will go for nude coloured underwear.