06/05/2020
Who invented wrap dresses?
Share
So, who invented wrap dresses?
It's often claimed that famous designer Diane von Furstenberg was the first one who invented a wrap dress for women. However, this particular silhouette was around for several decades prior. Surprisingly, while other trends came and went, wrap dress has withstood the challenge of time and continues to be a staple in women's closets up to this day. In today's post, we will look back to the history of this iconic clothing piece that gave women all over the world a chance to feel feminine, powerful, and comfortable - all at the same time.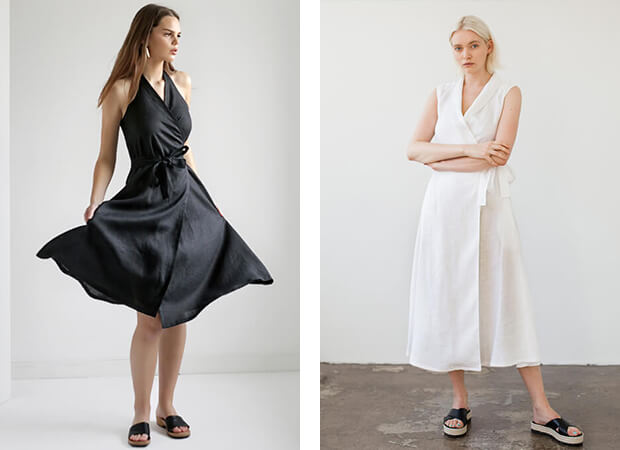 First-ever wrap dresses were designed by Elsa Schiaparelli in the 1930s and by Claire McCardell in the 1940s. They were also popular during the Great Depression as women wore house dresses called "Hooverettes" with a similar silhouette. Later on, the design was reinvented by Diana von Furstenberg. She used colorful jersey fabric to make her long sleeve wrap dress. It became so popular that by the end of 1975 production has reached 15,000 dresses per week.
Wrap dresses have reached their peak of popularity in the 1970s and haven't lost it ever since. This specific dress design is not just a piece of clothing - it perceived feminist significance as well. Now, you can purchase a wrap dress mostly anywhere – with different sleeve designs, certain detailing, and from various fabrics.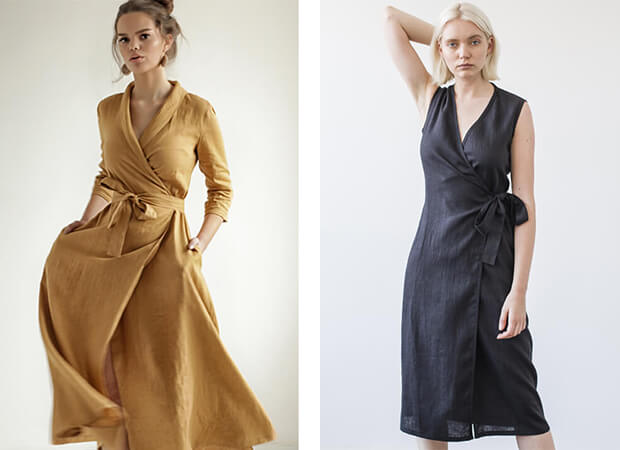 If somehow, you haven't tried wearing a wrap dress, our collection of linen wrap dresses offers quite a wide selection for you to choose from. White wrap dress would be perfect for a modest wedding celebration, summer wrap dress could become your go-to travel piece for any climate and location. From mini wrap dress to short sleeve wrap dress, we made sure that each woman could find her very own, perfect linen wrap dress. And while it's so comfortable and easy to wear, it's also a symbol of empowerment, feminism, and confidence
"All I want is, I think that through the dress, my message is to always tell women that they can be, and they should be the woman they want to be. What we do is celebrate freedom and empower women, and sell confidence, because, in the end, it's the confidence that makes you beautiful." - Diane von Furstenberg