04/14/2020
Wardrobe staples from linen
Share
Some of us find it hard to decide what to wear every time we go out. To work, to a birthday party or just a casual walk in the park. We want a wardrobe made from natural, long-lasting, and timeless designs without having to buy/spend too much. And while trends come and go, there are few essentials that can build your wardrobe and literally last a lifetime. This is our list of absolute linen basics that go well together and gives a guarantee that there's always something to wear.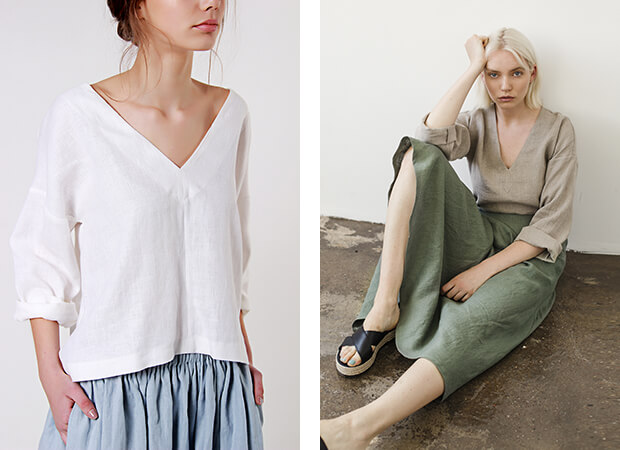 Effortlessly stylish V-neck shirt
The very first item is our absolute favorite V neck shirt. Unique design makes it stand out from any other white linen blouses you might already have because it has a loose, relaxed fit as well as dropped shoulders. And while this blouse is so elegant it can actually be worn with so many bottoms! For instance, cigarette pants with belt ruffled skirt, culottes, and even leather jacket. Mixing & matching with this linen blouse is easy as 1, 2, 3. Why don't you try it yourself?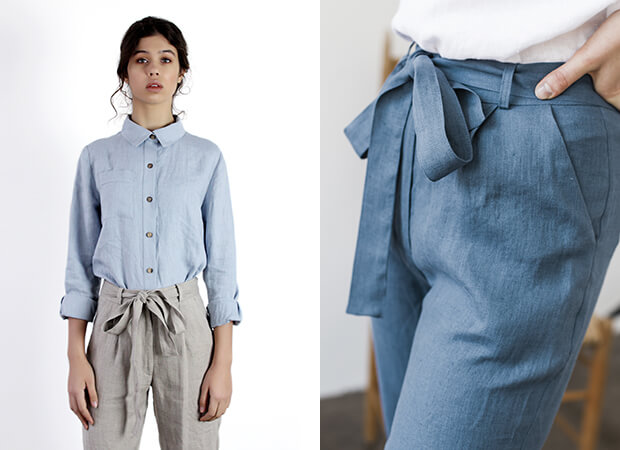 Classic and refined pants
Another pretty item is our previously mentioned linen pants. Classic and structured cigarette pants come with a matching belt for an extra polished look. The design also features handy side pockets and comes in 14 different colors for your choice. Perfect item for both hectic workdays and free-time activities as linen feels soft on the skin and goes well together with almost anything. Pair it with a jacket for a business outfit or a flannel shirt for more of a laid-back look.

Little linen dress
I'm sure you are already thinking about a little linen dress. We have a shirt dress that is super comfy and stylish at the same time. You can choose from a short and long sleeve version depending on the season. The linen dress we offer is tailored with tiny buttons on the sleeves for a vintage touch. It looks amazing with a vest or a linen cardigan if the weather gets too cool outside, a nice item to pair with both sandals and sneakers.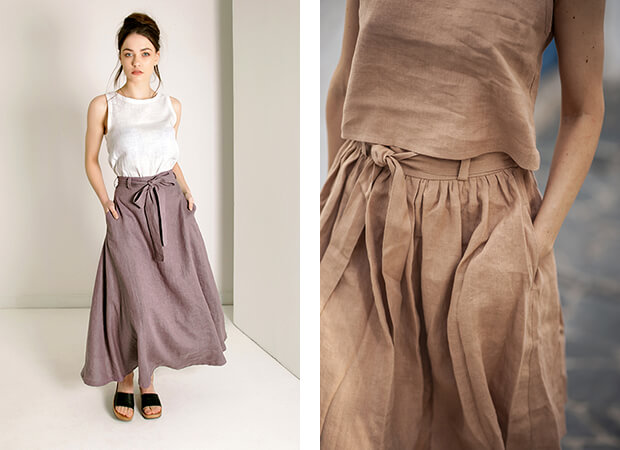 Fun & sweeping skirt
Let's not forget about linen skirts as they are so fun to wear all year round. Especially if it's a tie waist skirt with belt, cut to perfect length according to your height. The one we offer comes in so many colors for your choice and is made from such a soft fabric you will consider wearing it as often as possible. Impeccable linen piece for a date night or night out with your best friends. Pair it with a short sleeve or a linen tank top but any other top will look just fine.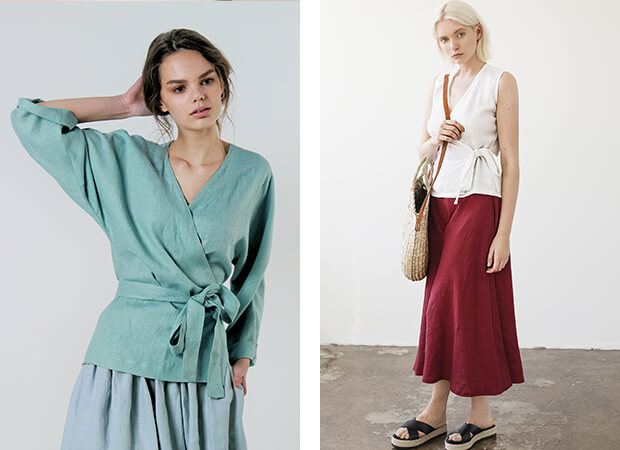 Wrap in comfort
A linen wrap top is a great option for those who want a breath-taking outfit without putting too much effort. Choose color accordingly to your hair, skin color, or simply your taste pair it with a pencil skirt or classic pants and there you have an ideal outfit. Our captivating linen blouse comes with short and long sleeves and is perfect for those evenings you want to look & feel your best. Don't forget your favorite jewelry and heels. Now that's the look that is guaranteed to steal the spotlight.
These are 5 basic items that you can mix and match together with the items you previously had in your closet. Experiment, try something new, and don't be scared to play with your looks. At the end of the day, the most important thing in every clothing is a woman who wears it. No matter what you wear, wear it with confidence and top it off with a smile.