Quality over quantity
We are taking environmental impacts into consideration during the production and manufacturing process. The environmentally friendly route is the path we chose towards our final sustainable product.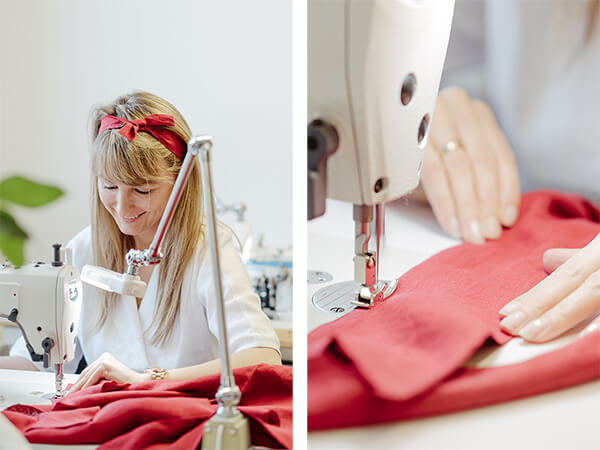 Small quantities - just the right amount for your needs
Ordering the item custom made has traditionally been an option only for bespoke and couture customers. In the meantime, we have decided that this preference should be available for anyone who appreciates impeccable quality. That is why most of our garments are made to order. This practice allows you to choose from variety of colours, sizes, and helps us reduce storage. Only small proportion of our production is ready to ship, and these are time-tested designs in the colours that we know are highly requested. None of the garments remain unsold which allows us to eliminate typical inventory issues that may lead to pollution and waste.
Every detail matters
Sustainability starts with a design. Waste can be minimised through functional pattern design and successful cutting techniques which we applied to our creation process. Zero-waste is a technique that eliminates textile waste at the design stage. Having that in mind, we designed our items with belts, pockets, and other detailing to use even the smallest scraps of the fabric. It is also important to consider the style of the garment. Our main inspiration are vintage, classic designs that will never go out of style. Longevity over trends is what we seek in our creation process daily.
Made with love
How do you know that the garment was made with love? The answer is simple – healthy, motivated, and happy workers means equally great products. Here at Linen Handmade Studio we guarantee safe working conditions, fair wages, and absolute respect towards our workers. Having the ability to bring qualified, professional people together, we know that the product that was created is made to last. As ateam, we all have slightly different values – volunteering, environment, renewing, etc. but a combination of all these beliefs is what brings us together, keeps us inspired and passionate. Believing, taking actions based on these beliefs and finding like-minded people who share your values and concerns is what creates change.
Meet the conscious summer chasers team:
Laura

Owner, Designer
My name is Laura, and I am a mother of two kids. I live in Klaipeda, the beautiful seaport of Lithuania. I love the sea. I love natural products. I am passionate about sustainability. And I truly love LINEN clothes. I am a conscious summer chaser too. My passion to create clothes was with me since I was little girl - my mother was a seamstress, so I spent many hours with her in her studio. After my second child was born, I decided it is time for me to pursue my dream. Even though it came with a lot of challenges along way, now I have a team of passionate people and most pleasant job in the world.
Vitalija

Customer Service, Manager
My name is Vitalija, I am a Business English student. Meeting new people, sharing ideas, socialising is what makes me happy and fulfilled. Communication is my number one value! That is why my job keeps me so inspired and motivated. I have been working in the company for more than two years now. What I enjoy the most is communication with the customers – it is important for me to guarantee pleasant shopping experiences for each of them. I particularly adore friendly atmosphere, safe and good working conditions. I am also currently teaching myself copywriting and creative writing so I could maybe learn something new and broaden my horizons.
Rasa

Tailor
My name is Rasa and I am a professional seamstress. I have been working in this field for more than 36 years! I enjoyed sewing and sketching ever since I was a little girl. That is why my profession came to me naturally. I particularly enjoy anything that requires creativity - renewing old furniture, papier-mâché, needlework. My favourite thing about my job is creation process which is always challenging and interesting.
Aušra

Tailor
I am Ausra and I am passionate about many different things. From volunteering, religion to renewing old furniture and many more. I enjoy anything that requires imagination and precision. As I always loved sewing, crafting, making something on my own, it was not hard for me to choose my profession. I have been sewing for 26 years now. A friendly atmosphere, the open-minded owner, flexible work schedule and fair wage is what I like best about my job. I would love to learn hairstyling and food decorating in the future.
Diana

Tailor
My name is Diana, I am a professional seamstress though I am also passionate about psychology, makeup and fashion. I love reading books about human relationships, different personalities. Self-realisation is essential for me in order to feel happy and satisfied. That is why I enjoy creating – seeing the finished garment motivates, inspires me and lifts my self-esteem up. I chose my career path because tailor was a very respected and promising profession where I grew up. I am very happy about my choice to work in this field.
Elvyra

Tailor
I am Elvyra and I have been a seamstress for more than 32 years. I am enthusiastic about anything that requires precision, creativity and neatness. From knitwork, needlework to embroidery and other things. I enjoy working in motivated team - it is also very important for me to work in a positive atmosphere. I really like working at Linen Handmade Studio because work is organised in a very convenient way, colleagues are friendly and willing to help if any issue comes up. What is more, company ensures good workings conditions that I am satisfied about.
Ieva

Assistant
My name is Ieva, I am an ecology graduate. I enjoy anything related with self-improvement and it changes once I feel confident about my new skill or knowledge - at the time is studying about world's history. It is important for me to work in a company that would suit my values. Linen Handmade Studio's beliefs correspond with mine, especially environmental awareness part. Working here, I feel the connection to Lithuania's heritage and ethnic culture, thanks to my family that raised me this way.
Edita

Pattern maker, garment cutter
I am Edita, professional pattern maker and garment cutter. To lead a happy and healthy life and pursue a dream of becoming a garment cutter has been my main aspirations since I was a teenager. I chose this path because it is important for me to work in a dynamic, innovative, and ever-evolving environment, improve my skills and create beauty. Linen Handmade Studio gives me an ability to contribute to creation process of sustainable and timeless, beautiful clothes. I truly believe that aesthetic, comfy garments make us women feel more confident and happier on a daily basis.
You can make a difference too
We passionately define our quality standards so your pieces can be worn well and often. For your timeless product to last, please take a good care of it. If the item you own does not make you happy anymore, please remember that it could bring happiness to somebody else. Increase its lifecycle by gifting it to a friend, reuse or recycle it so it could last for many years more.