06/26/2023
Linen Resort Wear: Perfect Choice for Your Tropical Getaways
Share
Picture yourself lounging on a pristine beach, with the gentle ocean breeze caressing your skin as you soak up the sun. The perfect tropical getaway requires the perfect wardrobe, and when it comes to comfortable and stylish attire, linen resort wear emerges as the ultimate choice. In this blog post, we'll explore the many reasons why linen beach resort wear should be your go-to staple for that dream vacation.
Breathability and Comfort:
Tropical destinations often come with soaring temperatures and high humidity levels. In such conditions, comfort is key. Linen, a natural fabric made from flax fibers, offers exceptional breathability, allowing air to flow freely and keeping you cool even in the hottest climates. It is loose weave and lightweight nature prevent the fabric from clinging to your skin, promoting ventilation and ensuring maximum comfort throughout the day. The soft, natural texture of linen vacation clothes feels gentle against the skin, providing a comfortable and pleasant tactile experience. Linen's ability to regulate body temperature makes it a comfortable choice year-round, as it keeps you cool in the summer and retains warmth during cooler months.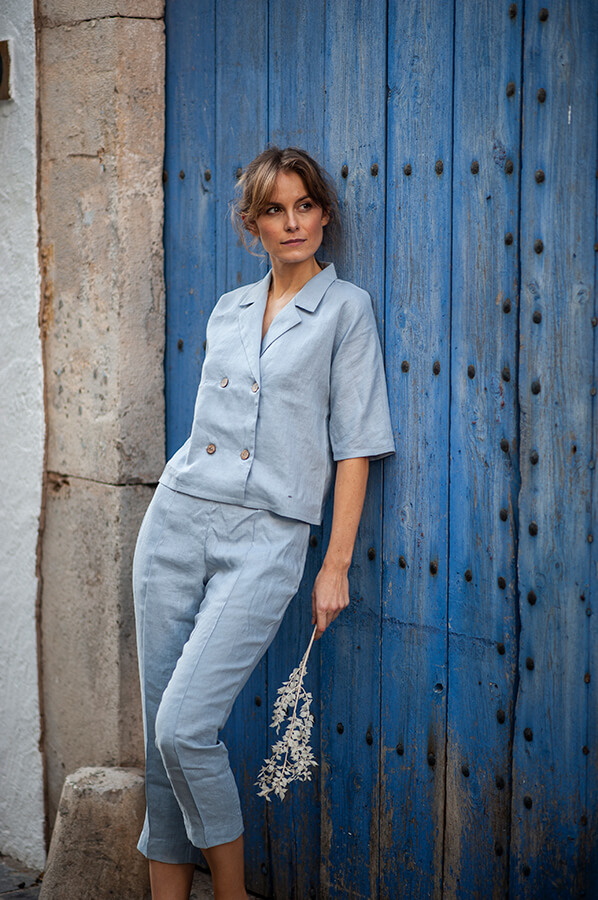 Moisture Absorption and Quick Drying:
Linen's ability to absorb moisture is another reason it shines in tropical environments. Whether you're taking a dip in the ocean or sweating under the sun, linen absorbs perspiration quickly, keeping you dry and comfortable. Unlike synthetic fabrics that tend to trap moisture, linen allows it to evaporate rapidly, preventing that uncomfortable, sticky feeling. So, you can indulge in outdoor activities or explore the local sights without worrying about damp clothing. With its rapid drying ability, linen allows you to enjoy a beach day without worrying about damp or uncomfortable clothes for long. Just a short while in the sun and your linen beach resort dresses will be back to their fresh state and no ironing is needed.
Effortless Style:
Resort wear is all about combining comfort with style, and linen checks both boxes effortlessly. It is natural texture and relaxed drape lend a casual elegance to your look, perfect for a laid-back vacation vibe. Linen's subtle wrinkles add character, giving your outfit a relaxed, effortless charm. Whether you opt for linen dresses, pants, shirts, or skirts, you'll exude a sense of timeless sophistication while embracing the relaxed ambiance of your tropical destination. Linen resort dresses can be effortlessly styled up or down, allowing you to create various looks with just one garment. During the day, linen dresses exude a laid-back, breezy vibe that perfectly complements a beachside stroll or a leisurely brunch. Pair them with sandals, a sunhat, and some statement accessories, and you'll have an effortlessly chic and comfortable ensemble. As the sun sets, beachwear dresses can easily transition into evening wear. Simply add a belt to cinch the waist, swap the sandals for heels, and accessorize with some delicate jewelry to elevate the look. The breathable and lightweight nature of linen ensures that you'll stay comfortable throughout the day and night, making it an essential piece for any resort wardrobe.
Versatility:
One of the key advantages of linen vacation wear is its versatility. Linen vacation dresses can be easily dressed up or down to suit different occasions. Pair a linen button-down shirt with tailored shorts for a casual daytime stroll, or dress it up with linen trousers to create a romantic sunset dinner outfit. The fabric's neutral hues and earthy tones complement a wide range of accessories, making it easy to create various tropical vacation outfits with just a fewkey linen pieces.

Durability and Sustainability:
When investing in resort wear, it's essential to consider the durability of your clothing. Linen resort wear boasts exceptional longevity, making it a worthwhile investment for your tropical getaways. It's a strong fabric that can withstand regular wear and washing without losing its shape or texture. Additionally, linen is an environmentally friendly choice. Flax plants require less water and fewer pesticides than other crops, making linen a sustainable and eco-conscious option for conscious travelers. This natural fabric boasts exceptional strength and resilience, allowing linen garments to withstand the test of time. Unlike many other fabrics, linen becomes softer and more comfortable with each wear, while still maintaining its integrity. Its fibers are highly resistant to stretching and pilling, ensuring that linen pieces retain their shape and appearance even after years of use. With proper care, linen beachwear clothes can be enjoyed for decades, becoming treasured heirlooms that carry memories and stories from one generation to the next. The longevity of linen not only speaks to its quality but also its sustainable nature, as it reduces the need for constant replacements and contributes to an eco-friendlier approach to fashion.
Perfect for Conscious Summer Chasing:
Linen embodies the spirit of those forever chasing the sun, seeking warm rays and idyllic destinations. It becomes the ultimate companion for these sun-seekers, as its inherent qualities align seamlessly with their adventurous souls. Linen's breathability and moisture-wicking properties ensure that even in the hottest of climates, it keeps you cool and comfortable. Its natural ability to resist odors and wrinkles means you can effortlessly transition from a day spent basking under the sun to an evening of cocktails and dancing without missing a beat. Linen's sun-kissed hues and effortless drape evoke a sense of carefree elegance, perfectly complementing the bronzed glow acquired from days spent frolicking on sandy shores. With linen as your trusted ally, you can chase the sun, embrace the tropical bliss, and create unforgettable memories wherever your wanderlust takes you.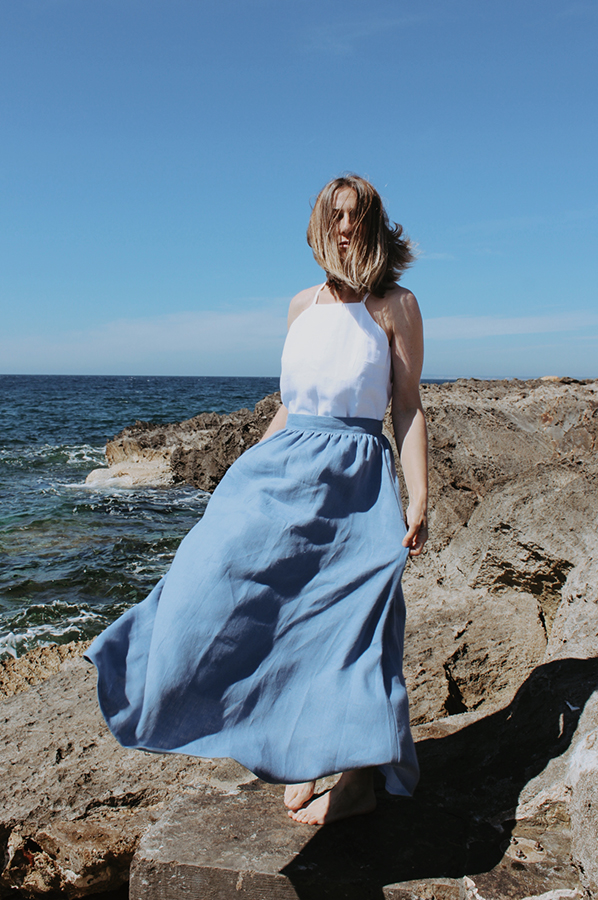 Linen's popularity:
In recent years, linen has experienced a resurgence in popularity, captivating fashion enthusiasts and travel aficionados alike. Its timeless appeal, and natural allure have made it a coveted choice for those seeking effortless style and comfort. From fashion runways to beachside resorts, linen has become a symbol of laid-back sophistication and an embodiment of the carefree spirit. As more people embrace sustainable and eco-friendly fashion, linen's eco-conscious properties and durability further elevated its desirability. With its newfound status as a fashion staple, linen has firmly established itself as the go-to fabric for discerning travelers in search of both style and substance.
Do not underestimate the power of linen resort wear for women when planning your next tropical adventure. With its breathability, comfort, moisture absorption, effortless style, versatility, and sustainability, linen emerges as the perfect fabric for your vacation wardrobe. Whether you are exploring exotic destinations or lounging by the pool, linen resort clothing will keep you cool, comfortable, and stylish throughout your getaway. So, pack your linen tropical wear, embrace the tropical bliss, and make unforgettable memories in the comfort of this remarkable fabric.