03/23/2023
Camel Linen Clothes: the Perfect Choice for Effortlessly Chic Style
Share
When it comes to creating a wardrobe that is both stylish and comfortable, nothing beats linen clothing. And when it comes to linen clothing, there's no color quite as timeless and versatile as camel color. The warm, neutral hue of camel pairs perfectly with a wide range of other colors and is a great choice for any season. Whether you're dressing up for a special occasion or simply running errands, camel-colored linen clothes are a surefire way to look effortlessly chic.
How to wear camel color?
Here are some of the reasons why you should consider adding camel-colored linen clothes to your wardrobe:
They're easy to style. One of the best things about camel-colored linen clothes, such as camel pants is how easy they are to style. Whether you're pairing a camel linen shirt with jeans for a casual weekend look or wearing a camel linen dress to a summer wedding, this hue is a great foundation for any outfit. Camel also complements a wide range of other colors, from navy and white to pink and green.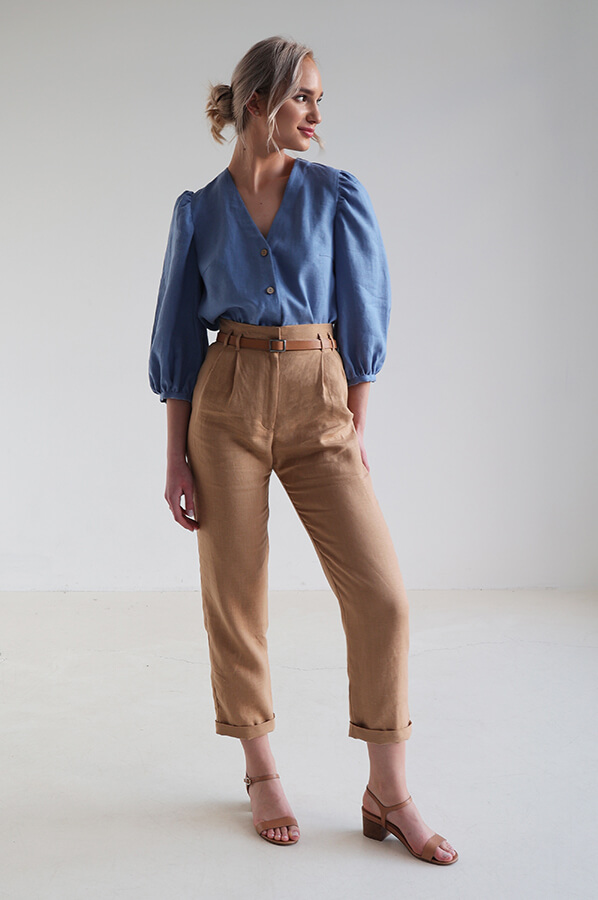 They're versatile. Camel-colored linen clothes are perfect for any season. In the spring and summer, lightweight camel linen dresses and skirts will keep you cool and comfortable. In the fall and winter, camel-colored linen pants and jackets can be layered with sweaters and scarves for a cozy, chic look.
They're timeless. Camel is a classic color that never goes out of style. When you invest in camel-colored linen clothes, you can be sure that you'll be able to wear them for years to come. Linen is also a durable and long-lasting fabric, so you can rest assured that your camel-colored linen clothes will hold up to regular wear and tear.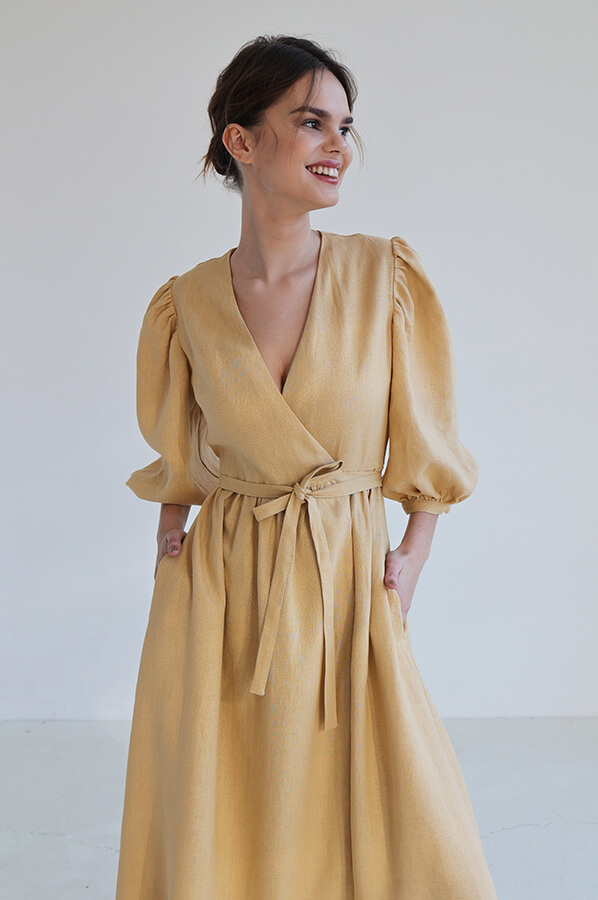 They're eco-friendly. Linen is a sustainable and eco-friendly fabric choice. It's made from the flax plant, which requires far less water and pesticides than other crops like cotton. Linen is also biodegradable, so when your camel clothing eventually wears out, they won't contribute to landfill waste.
What colors go best with camel color?
Navy blue is a classic color that pairs well with camel color. The contrast between the two colors creates a timeless and sophisticated look.
Eggplant is a rich and deep shade that complements the warmth of camel. Together, they create a luxurious and elegant color combination.
Warm Olive is a muted and earthy shade that pairs well with camel color. The two colors create a natural and effortless look.
Nude is a light and airy shade that works well with the warmth of camel. Together, they create a soft and cozy color combination.
Light Gray is a cool and sophisticated shade that balances the warmth of camel. The two colors create a modern and chic look.
How do you style camel color?
Pair camel with colors that complement it: As mentioned earlier, colors like navy, eggplant, warm olive, nude, and light gray pair well with camel color. When choosing what to wear with camel, keep in mind the colors that will complement and enhance it.
Experiment with different shades of camel: Camel can come in different shades, from light beige to deep brown. Experiment with different shades to see what works best with your skin tone and personal style. For instance, we offer Light and Dark versions of Camel color.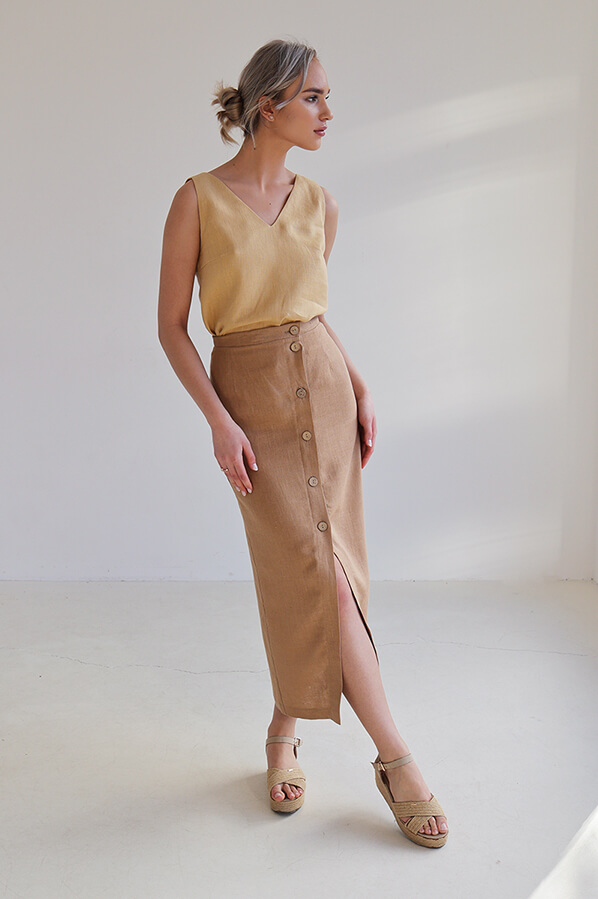 Add contrast to your outfit: Camel is a neutral color, so adding contrast can help make your outfit more interesting. Consider pairing camel with darker or brighter colors to add some pop to your camel color outfit.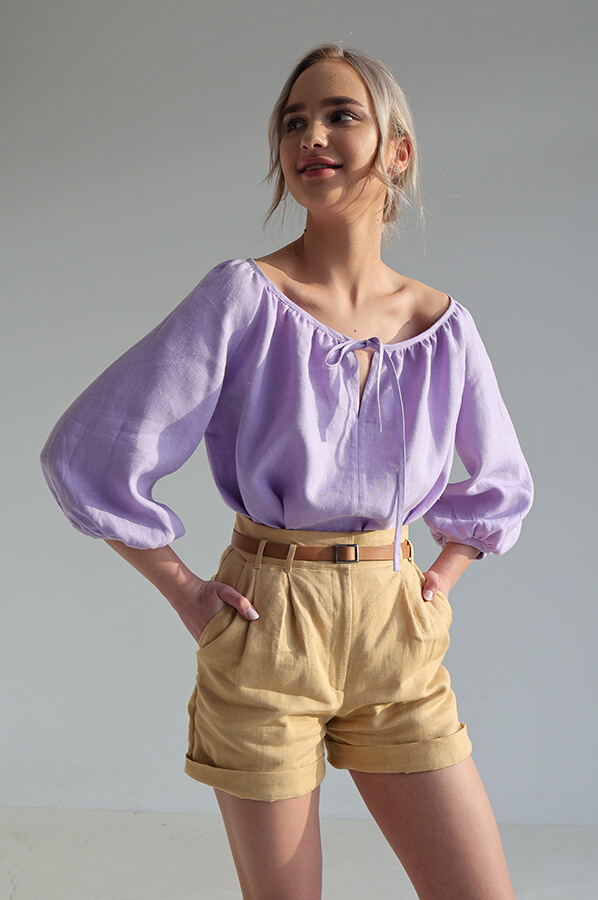 Accessorize with camel: If you're not ready to wear camel-colored clothes as a main piece, such as a dress, consider wearing a smaller garment in that color. A camel-colored tank top, a pair of shorts, etc. can add a touch of warmth and sophistication to your outfit.
Consider the occasion: Camel clothing can work for both casual and formal occasions, but the style and fabric of the garment will make a difference. For example, a casual linen camel shirt will be more appropriate for a casual outing, while a camel-colored blazer will be more appropriate for a formal event.
Can you wear camel color for special occasions?
Yes, absolutely! Camel can be a great color to wear for special occasions. It's a versatile and timeless color that can work for both formal and semi-formal events. Choose figure-flattering women camel dress or a nice suit to feel powerful and dressed up for the occasion.
Here are a few examples of how you can wear camel to special occasions:
Camel-colored suits: A camel-colored pants and jackets or vests can be a stylish and sophisticated choice for a formal event. Pair it with a white shirt and black shoes for a classic look.
Camel-colored dresses: A camel-colored dress can be a chic and understated choice for a wedding or cocktail party. Opt for a style that's tailored and flattering, and pair it with gold or silver jewelry for some added glamour.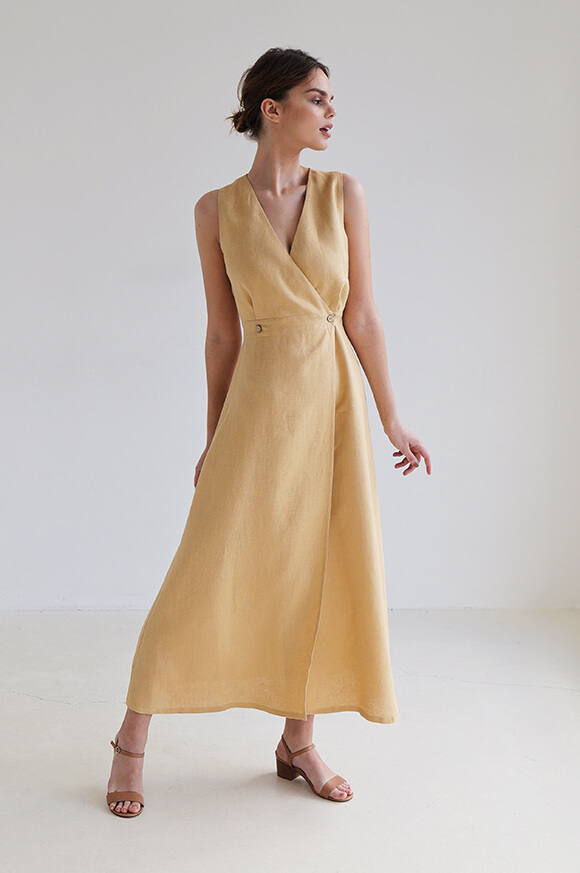 Camel-colored jackets: A camel-colored coat can be a luxurious and elegant choice for a winter wedding or holiday party. Pair it with a black dress and heels for a classic look or go for a more unexpected pairing with a bold-colored dress and statement shoes.
Camel color linen clothes are a must-have for any wardrobe. They're easy to style, versatile, timeless, and eco-friendly. From camel linen pants to camel linen dresses, there are plenty of options to choose from. So, if you're looking for a way to elevate your style while staying comfortable and sustainable, consider adding some camel-colored linen clothes to your closet today.
We think you might like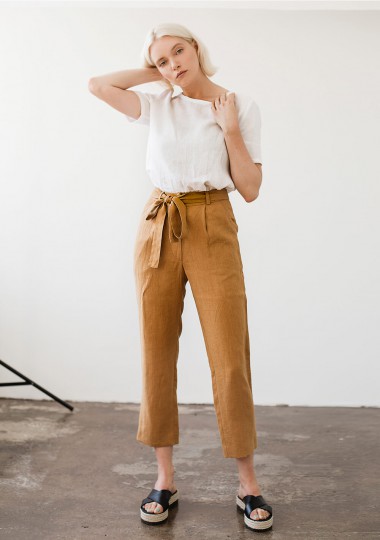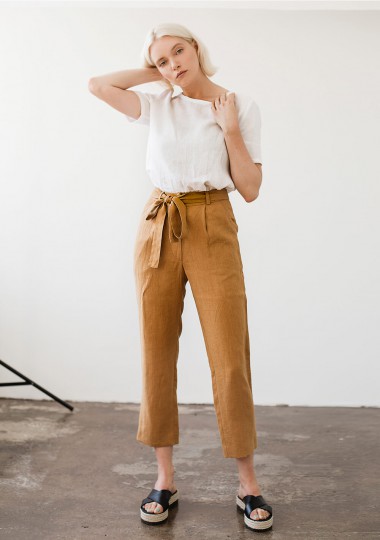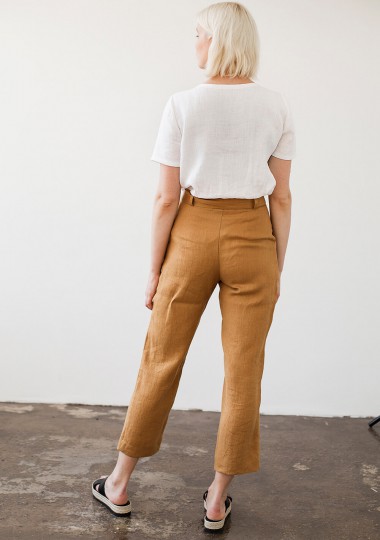 Linen pants Dakota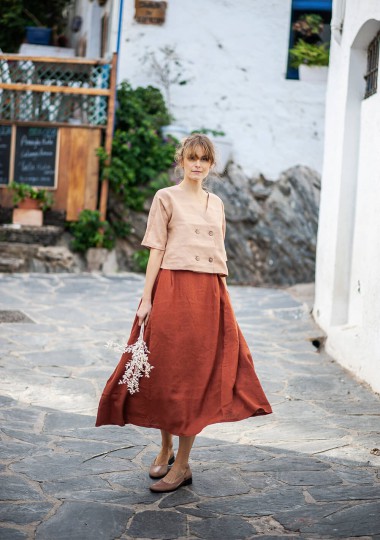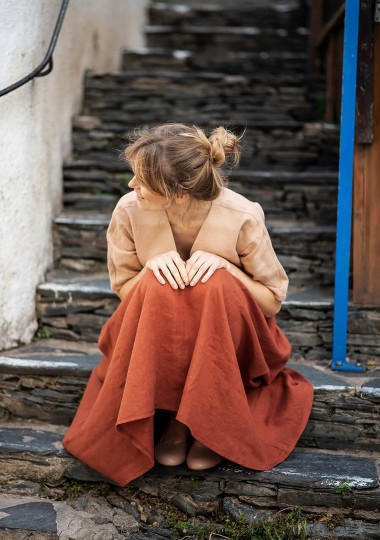 Linen skirt Florence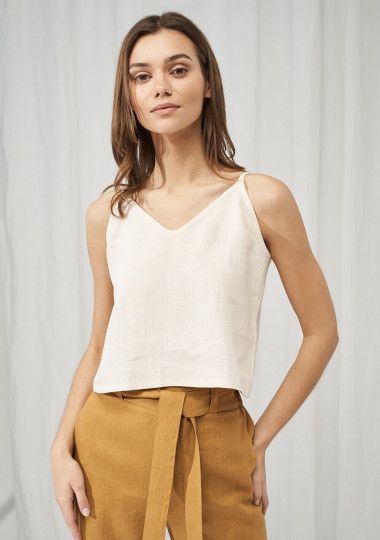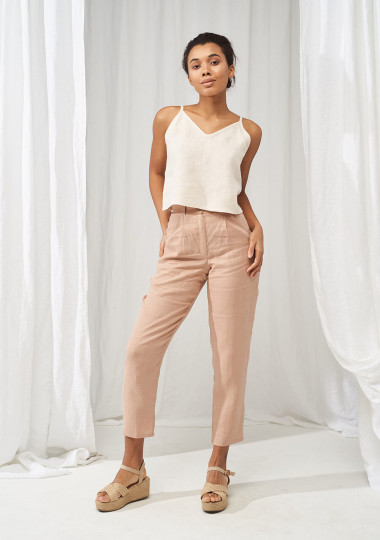 Linen crop top Ivy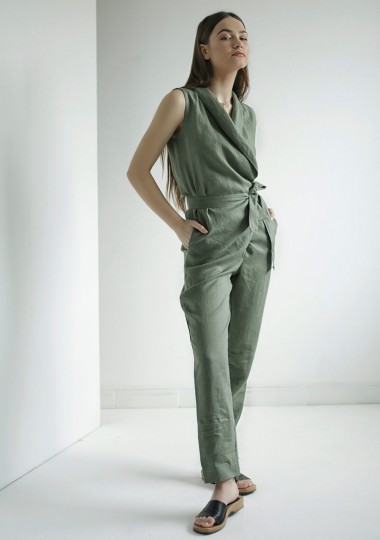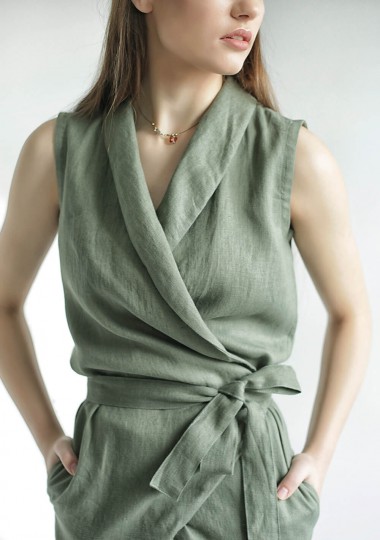 Linen wrap jumpsuit Giovanna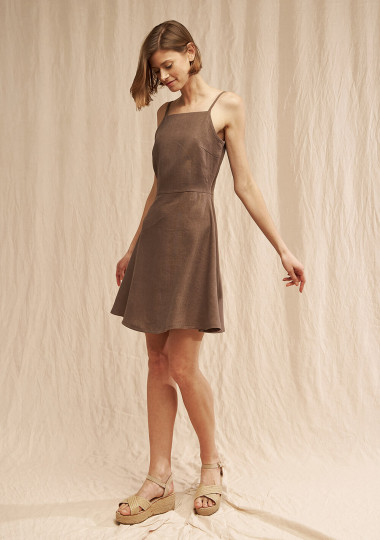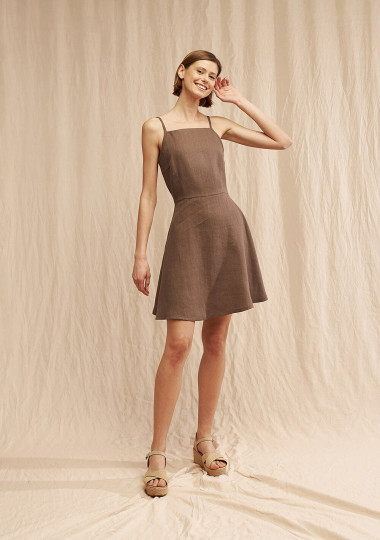 Short linen strap dress Cassidy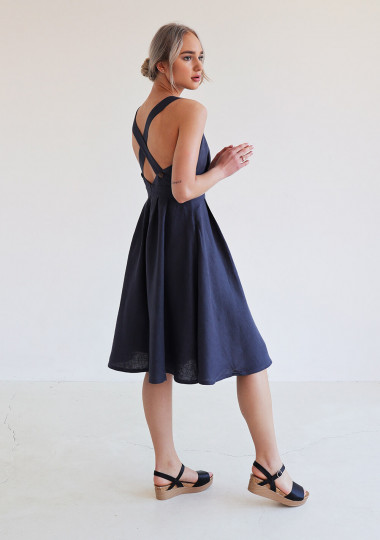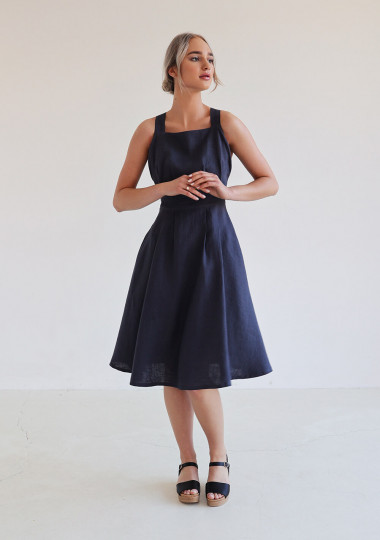 Cross back linen dress Paula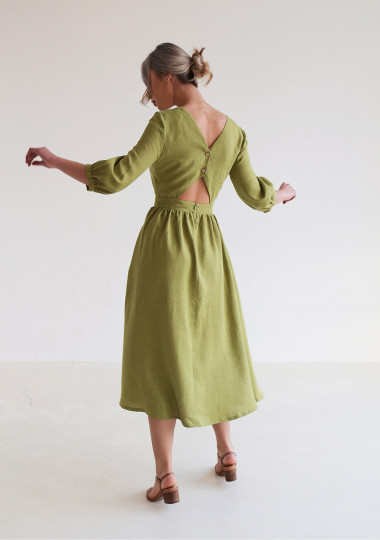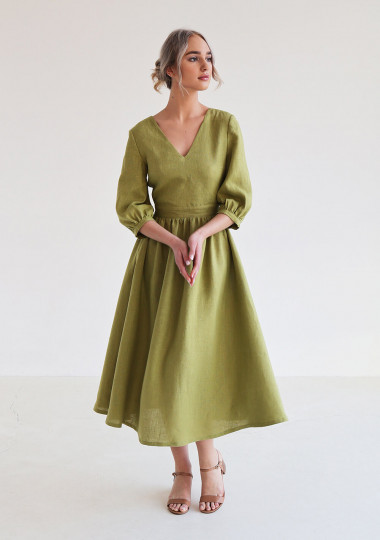 Open back linen dress Madeleine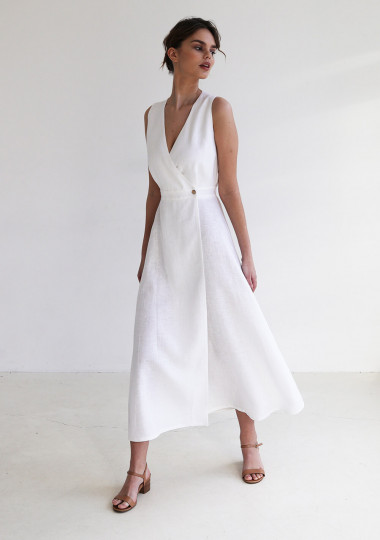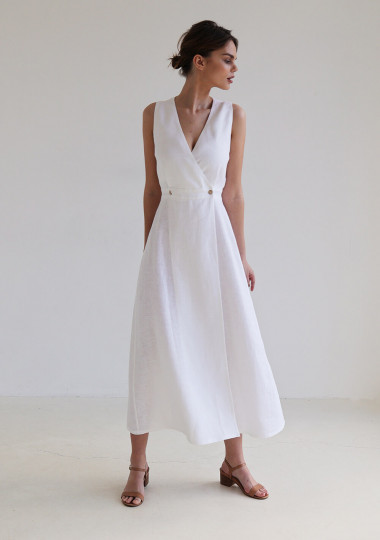 Maxi linen dress Riviera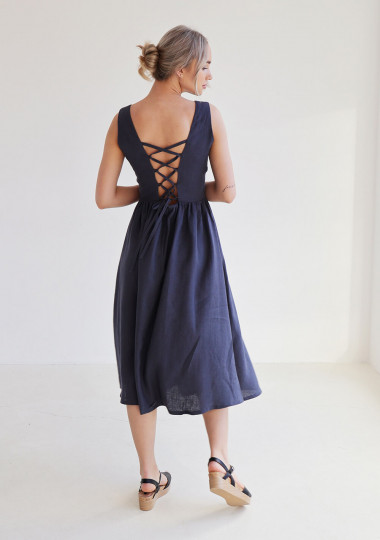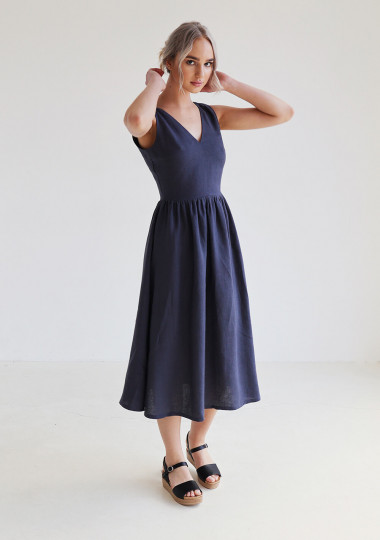 Corset back linen dress Lilly