02/27/2023
Top 9 White Linen Dresses
Share
Can you even imagine your summer without a white linen dress? White linen dresses scream comfort, fun, exquisite style, and of course, vacation. Whether you have an exotic trip planned or you will be enjoying a nice tour around a vineyard somewhere in South France, white linen dresses are your way to look chic whether you go. White linen dresses are extremely breathable, so they work wonders for providing you with comfortable wear all summer long. Read below to find our favorite white linen dresses.
Nice and casual April dress
Suitable for smart-casual or office wear April linen dress is a fashionable businesslike shirt with long sleeves and a classic-shaped collar. It is endlessly comfortable and could be styled in many different ways – wear it buttoned as a dress or unbuttoned and with rolled-up sleeves for a relaxed look. This unique item would be worn well and often during summer since it can be dressed up and down and work for different shoe choices as well. Wear it with sneakers, sandals, or loafers – this white linen summer dress makes it easy to stay cool and look chic no matter what you are doing.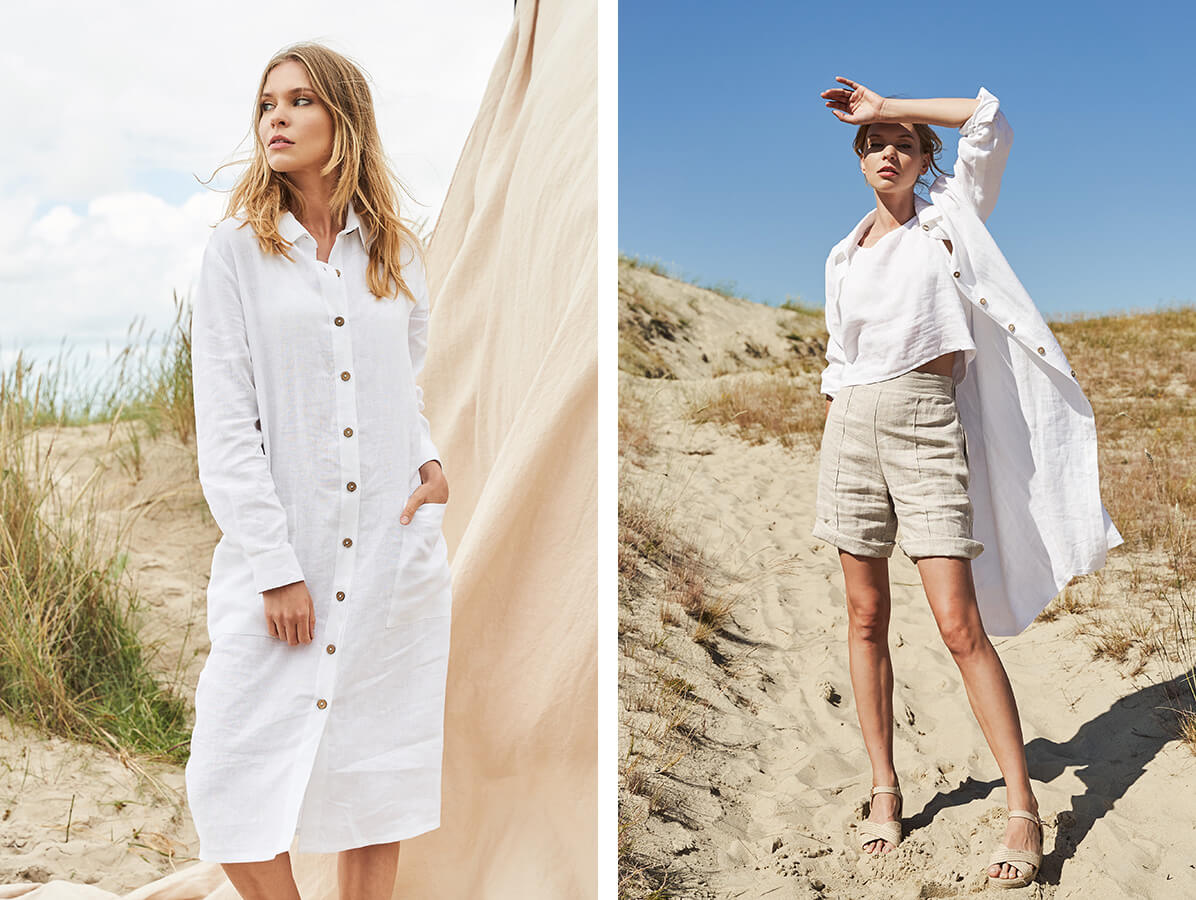 Breath-taking Odessa dress
Summer is full of nice celebrations, including weddings or other fun festivities. Odessa is a perfect linen dress to dress for confidence. It has an incredible vintage-inspired circle skirt that twirls around elegantly. Making one Odessa skirt requires so much fabric and the design kind of speaks for itself – an endlessly romantic, feminine white linen dress that will boost your confidence and make you feel the star of the evening. Straps are adjustable so you will have full control over how long you want them to be. This unique white linen dress also features a highly flattering tailored neckline and the top part is also lined to prevent uncomfortable situations. Wear it loud and proud! Odessa is known as one of our bestselling white linen dresses during summer months and is loved by brides who appreciate natural, timeless, and feminine dresses that are also made in sustainable fabric.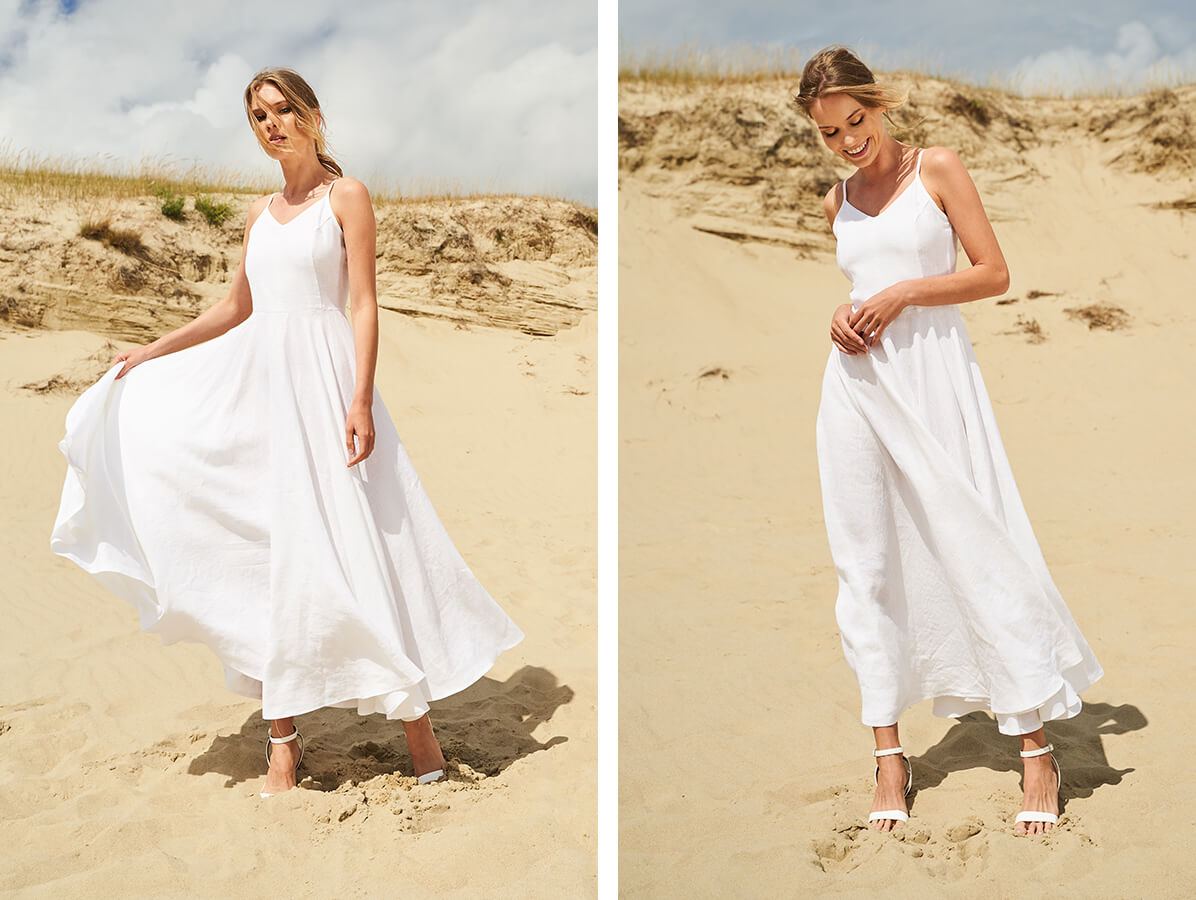 Highly flattering Arielle dress
Flare linen strap dress Arielle comes in two different lengths for you to choose from – fun mini and highly feminine midi length. Authentic white linen dress features a thick belt you can wrap all around your body. Get creative with it since there are two different ways to tie the belt. A longer version of the dress is also maternity-friendly so moms-to-be can feel nice and cute when wearing it. A shorter version of the dress can be dressed up or down depending on the location and straps also have regulators to work for different body proportions. Show off your legs with a shorter version or portray soft femininity with a longer version in one of these white linen dresses.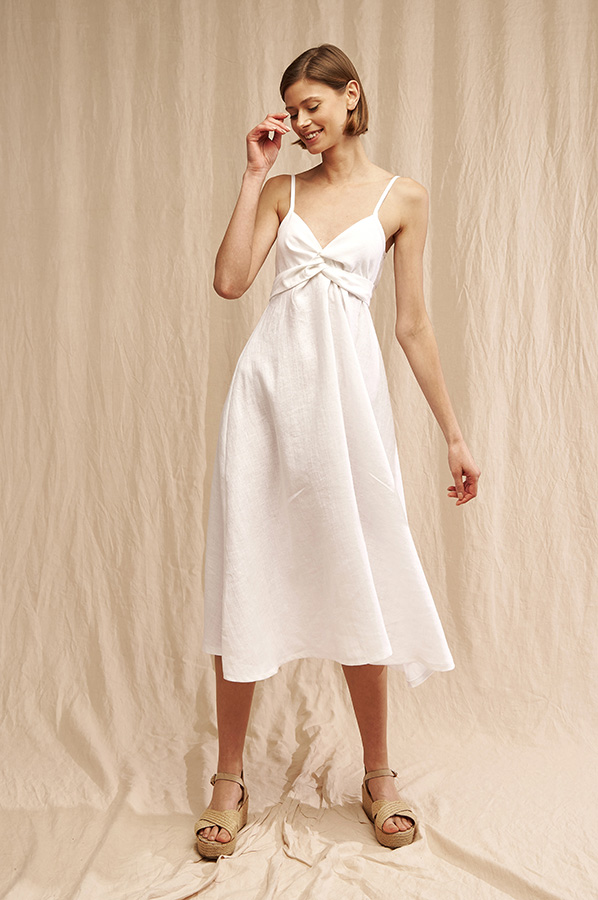 Nice & feminine Paloma dress
One of our most romantic and polished white linen dresses - Paloma dress represents pure femininity. The dress comes in an A-line silhouette and a beautiful thick belt to wrap around the waist – you can tie it at the front or in the back to accentuate your waistline and create beautiful body proportions. Short sleeves and calf-length make this dress warm-weather friendly. It is loved and appreciated by those celebrating birthdays, attending summer weddings, or women who love show-stopping white summer dresses.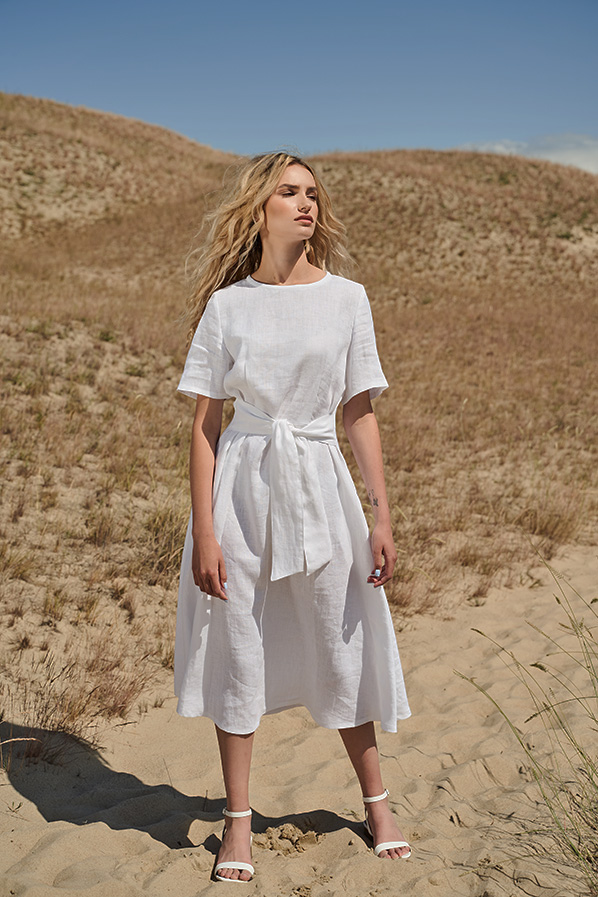 Beautiful button-down Ava dress
If your linen summer dresses mainly represent elegance, confidence, and femininity – you need an Ava linen dress in your collection. The polished, premium-quality linen dress is figure-flattering and purposely made to create an hourglass figure. It has a separate belt to sinch the waist or wear the dress without it. Large handy pockets fit all your necessities in and add a nice touch of interest. This wide strap dress comes in below-the-knee length to help you show off the legs and works beautifully when creating smart-casual or chic looks. Ava is the first design you can add to your suitcase when traveling – effortless design requires minimal effort to look stylish and put-together all the time.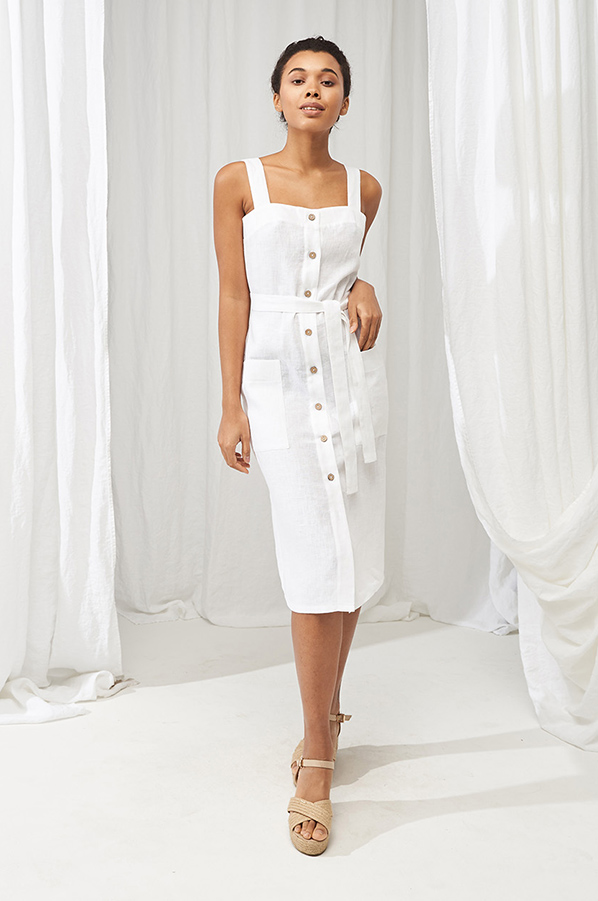 Authentic ruffled-skirt Cheryl dress
There's no other dress that is as stunning and as comfortable to wear. Cheryl linen dress has fun ruffled skirt detailing that takes the outfit to another level. Cut to a short length, this white linen dress allows you to show off those legs you've been hiding all winter. Sleeves also come in ruffled detailing to match the skirt and the side belt makes it easy to snatch the waist. It is playful, vibrant, and romantic so it easily works for fun summer festivities or simply the days you want to look a bit more glamorous. Optic White colored fabric illuminates in direct sunlight so you will surely attract a lot of attention. A real stunner for the celeberations you have planned this upcoming summer.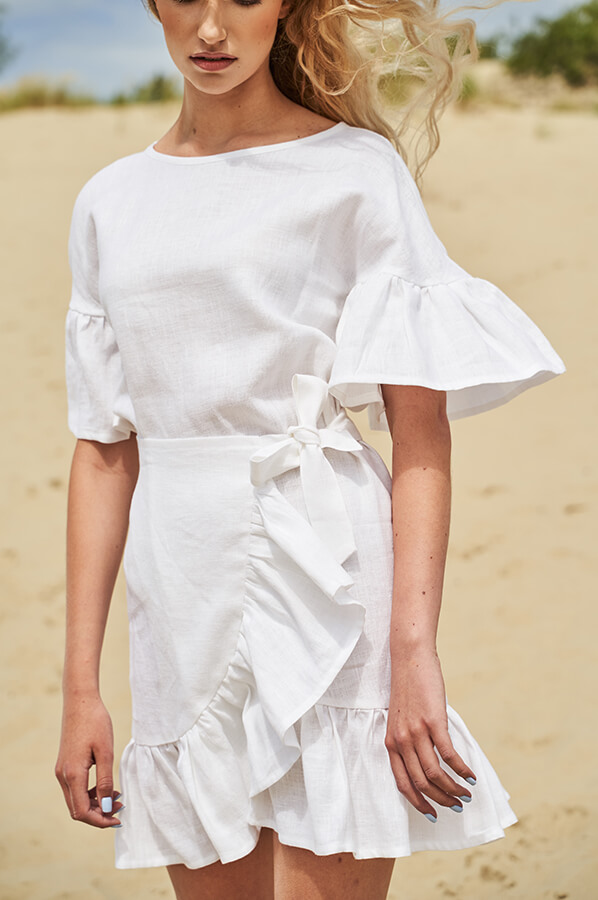 Dreamy wrap Serena dress
Shawl-collar white linen dresses are elegant and especially appreciated by mature ladies. No wonder why! Shawl-collared Serena dress is simply alluring and very feminine since it accentuates the waistline and an A-line skirt makes it suitable for weddings or other occasions with a particular dress code. Optic White color is often associated with purity and spirituality, and the Serena dress made in the white collar gives luxurious vibes.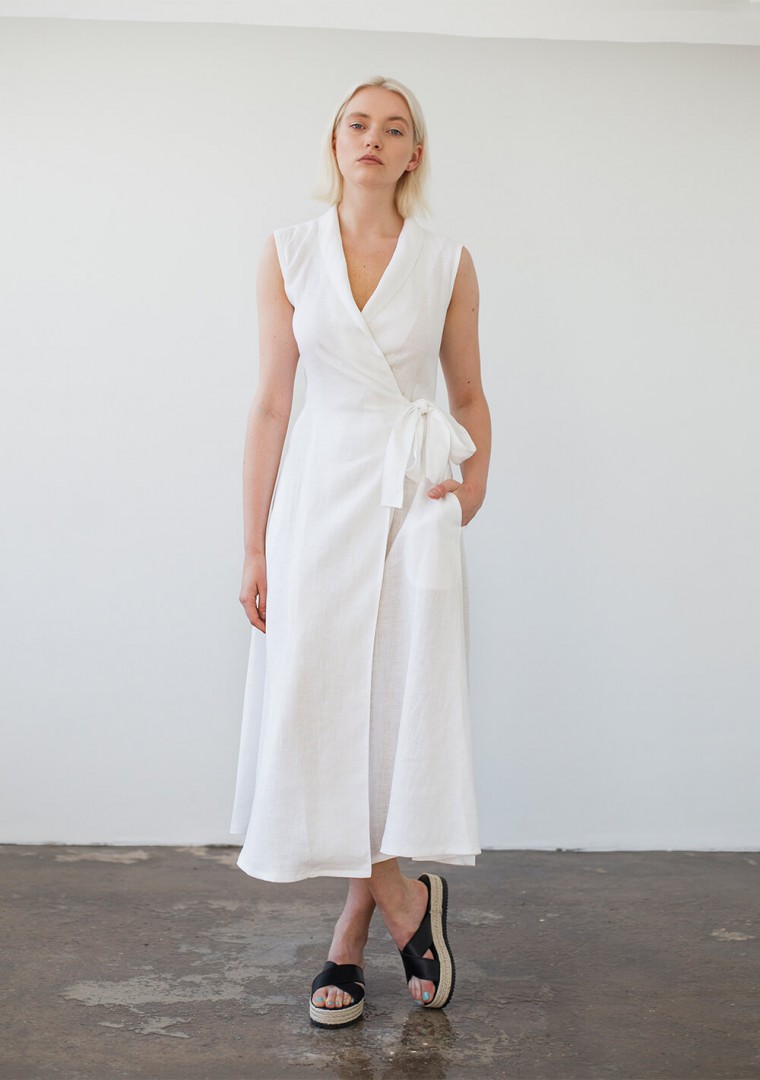 Elegant Riviera dress
The linen maxi dress Riviera comes in a highly flattering wrap design that also features a button closure. A sleeveless dress works wonders in warmer climates and guarantees breath-taking elegance throughout the whole day. This white linen dress will take your breath away – effective design is suitable for formal celebrations, such as christening ceremonies and especially, weddings. The top part of the dress is lined to prevent uncomfortable situations and ensure maximum comfort.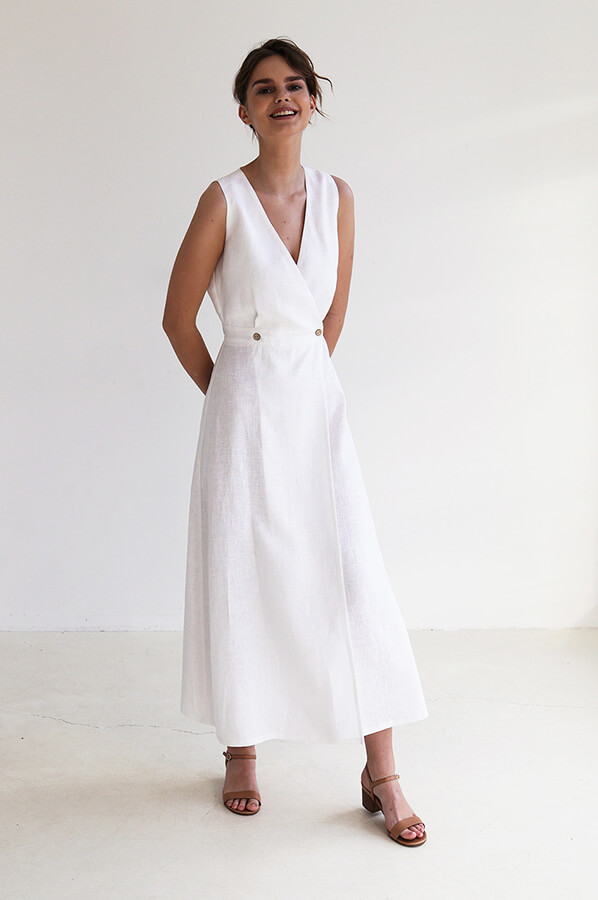 Playful Lilly dress
The corset back linen dress Lilly is among our most beautiful designs. Unique design features adjustable cross-back corset-style straps that bring interesting touch to the look. The top part of the dress is doubled to guarantee comfort and ensure that your underwear wouldn't show. Chic V-neck portrays subtle femininity while the ruffled skirt gives this dress the most feminine vibe. Choose it for upcoming summer festivities – this design is particularly suitable for modest brides or to create an effective wedding guest outfit.