02/22/2023
How to style a linen dress?
Share
Summer is quickly approaching and reminding us that it is finally time to take your linen dresses out and wear them in full rotation. If you are looking for tips on which linen dress to complement your collection or need styling ideas on dresses, you already own – this blog post is for you. From effortlessly chic and casual linen dresses to sophisticated and fancy designs to wear loud and proud this upcoming summer season.
How to style linen dress: our best styling tips
Less is more. Linen is an effortlessly gorgeous fabric with a beautiful crispy texture and incredible durability. There's no need to invest in dozens of linen dresses to look chic during summer. One linen dress can last you a lifetime and is so easy to mix and match with other items – it takes seconds to create an elegant or casual look. For example, a simple linen halter dress works wonders for a walk in a park during the day and could be transformed into an effective evening look. Invest in high-quality linen dresses to create your capsule wardrobe and be able to always look put-together and chic. It is always less is more when it comes to linen.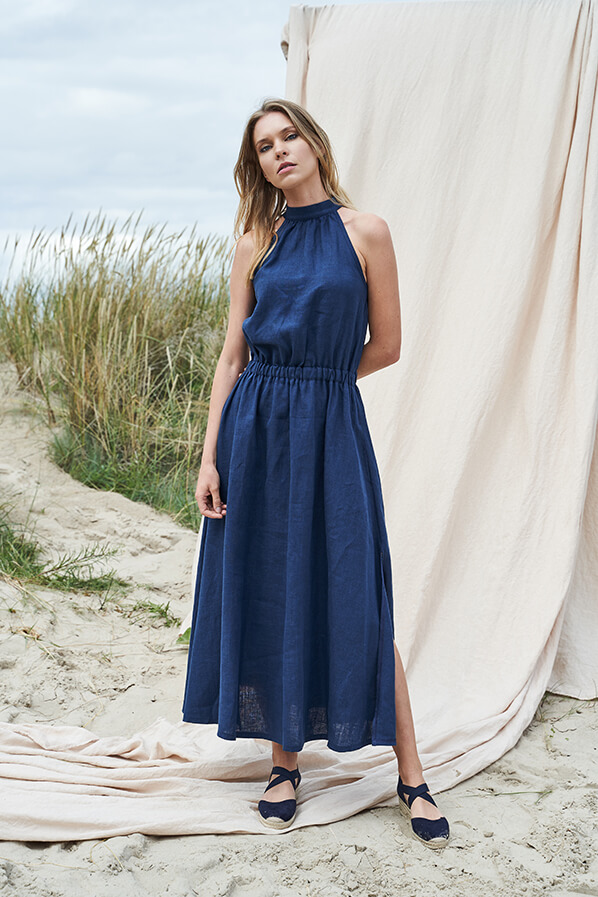 Don't be afraid to accessorize. Even the simplest long linen dresses for summer can transform you into a gorgeous diva with the right touch of accessories. Heels give us confidence, and a better posture and can also turn day-time look into an elegant outfit for dinner. A nice set of earrings add a little bit of spice to any look. Got ready for the beach? Pair your linen summer dresses with a nice summer hat and wicker basket to fit all your necessities in.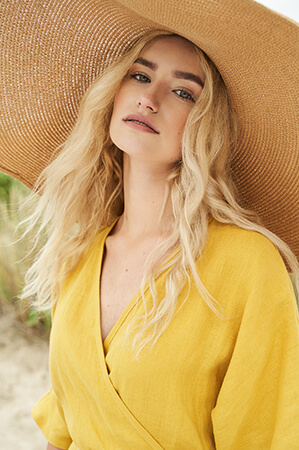 Monochrome goes a long way. We love colors, especially now that we added 4 new colors to our color palette. However, if you prefer to play in the safe zone, opt for similar shades when combining your linen dress with a jacket or sweater. Beiges, whites, or all-blacks will always look chic and put together. You know what they say, when in doubt – wear black. Monochrome or similar shades of dresses are also easier to combine with other items, such as sweaters, blazers, etc.
Layers, layers, layers. Although linen dresses are highly appreciated during summer, don't forget about them when the temperatures drop. Use smart layering techniques to enjoy your favorite items all year round. Wear maxi linen dresses with warm thighs, layer a turtle neck underneath, or combine with warm cozy wool sweaters. Linen mixes beautifully with other materials, such as silk and wool so it is always great to experiment a little.
How to style linen dress: linen dresses styles for your body shape
Hour-glass shape has proportionated hips and bust and is considered a balanced figure. With a well-defined waist, you always want to accentuate instead of hiding it. Look out for linen dresses that have V-necks, open necklines, accentuated waistlines, and especially, wrap linen dresses.
Pear or triangle figures have thinner upper bodies and larger hips, so it is best to accentuate the bust area with details, such as interesting necklines. This body type looks most beautiful in fitted and open-neck dresses, and full-skirt dresses, such as A-line and V-neck designs.
Apple-shaped women typically have a shorter, undefined waist, and slim legs so it's best to draw attention to their upper body. If you have this figure type, choose belted dresses, A-line dresses, wrap dresses, and dresses with full skirts.
A straight or athletic body has very similar or the same measurements for both shoulders and hips. There's no well-defined waist and the weight is evenly distributed throughout the whole body. If you have this body shape and want to dress confidently, draw attention to muscular arms, and defined shoulders and show off your waist. It is best to choose strapless designs, halter linen dresses, and scoop or round necklines.
What shoes to wear with a linen dress?
Keep it casual with sneakers. Who does not like comfort? Pair your favorite sneakers with tunics, and loose-fitting linen dresses, top off the look with a denim jacket and you are ready to stroll the city in style. Sneakers are great for dressing down the outfit making it feel more casual and relaxed. Opt for pastel, beige, or white-colored sneakers to make no compromises between style and comfort.
Spice it up with heels. Heels are a great way to elongate the legs, have a better posture, and spice up the look. Pair elegant linen dresses with heels to elevate the look and make it more evening-appropriate. Not only do heels fix our posture but give confidence and power vibes too.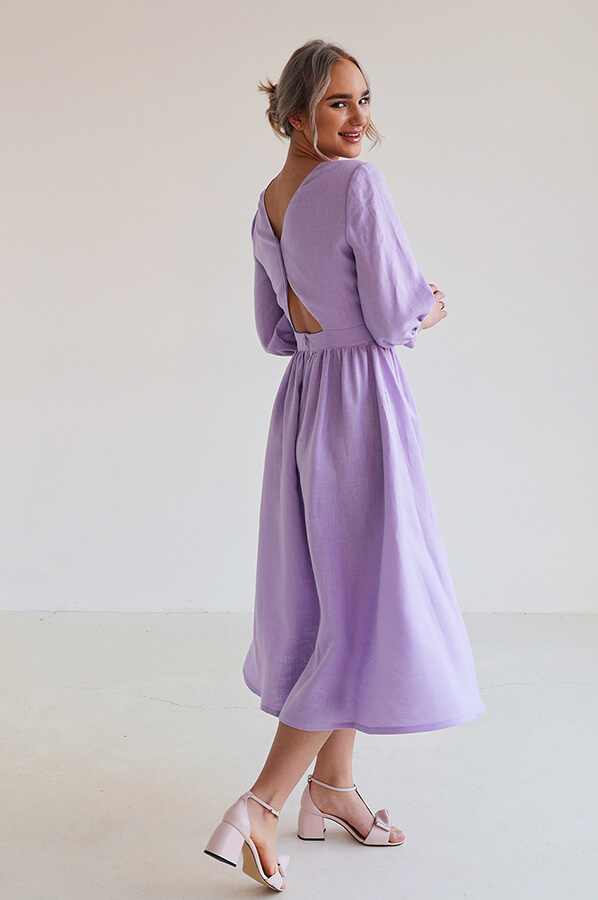 Vacation must-have – sandals. Sandals are a great in-between option when you want to walk comfortably yet look stylish. Pair your sandals with a short linen dress and top it off with a stylish summer hat and you are good to go.
Loafers for the smart-casual look or office wear. Loafers have taken the fashion world by storm and continue to stay popular when other trends simply go by. Experiment with your look by choosing stylish linen dresses paired with loafers. Add feminine white socks if you want a bit of a fashion twist.
What to wear under a linen dress?
Best linen dresses are breathable and allow the air to flow through the fabric easily. Although fibers are generally thick, even medium-weight linen fabric may be a little see-through. When wearing light colors, such as white linen dresses opt for nude-colored underwear to prevent uncomfortable situations. If you are a little bit more conservative, you can wear a slip dress underneath although some linen dresses have lined top parts if the item is fitted.
How to style linen dress for the beach look
It is best to keep it simple when hitting the beach. Linen summer dresses that are easy to put on and made in a breathable material and loose-fitting silhouette. A dress that feels comfy when you decide to go catching the waves. The best part is that linen dries extremely fast so your dress will be dry in less than 20 minutes. Opt for maxi linen dresses that provide breathable, comfy wear and also look breathtakingly gorgeous in pictures. Choose a classic Optic White V-neck tunic that feels comfortable and looks feminine. Pairs nicely with beach hats and your favorite pair of sunglasses. Or spice it up with bright yellow or blue shades to match the color of the ocean.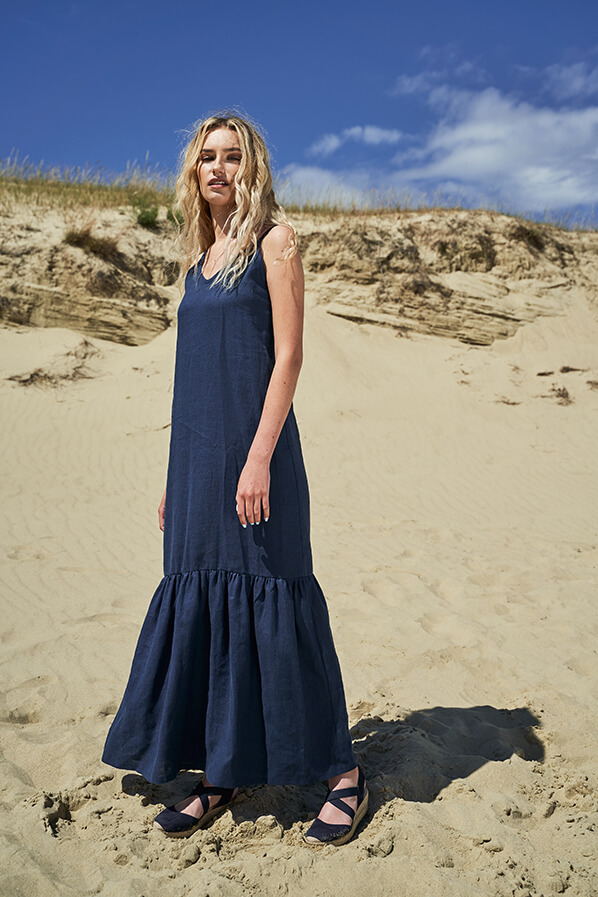 How to style linen dress for a romantic look
Nothing says romantic more than a figure-flattering long linen dress. Choose linen wrap dresses or linen halter dresses in a maxi length or knee-length – it flows in the wind nicely, looks highly feminine, and give you the power to romanticize each moment of your life. Linen dresses with ruffles work wonders when creating a beautiful and endlessly romantic look too. Choose soft shades such as pink or blue although ivory or beige will do the work too. Top off the look with minimalistic jewelry and a nice pair of platform or strap heels.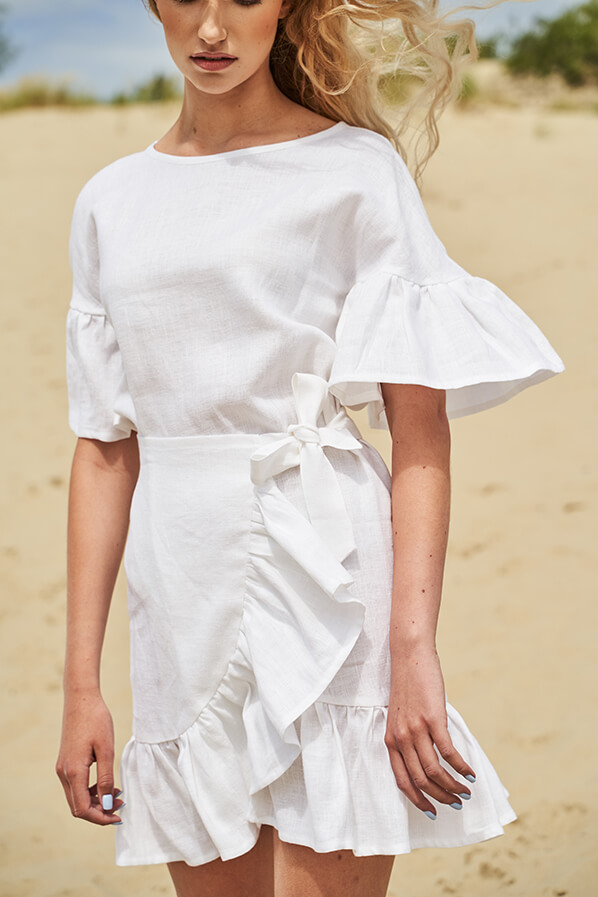 How to style linen dress for a casual look
It is easy as can be with a linen dress. Choose a simple V-neck linen tunic dress with rolled-up sleeves or a simple wrap dress knee-length. Pair the look with a denim jacket, sneakers, or simple sandals and you are good to go. To elevate the look, add sunglasses and a straw hat. It is best to choose minimalist shades such as blacks, grays, or whites although any color would work for a casual look just as nicely.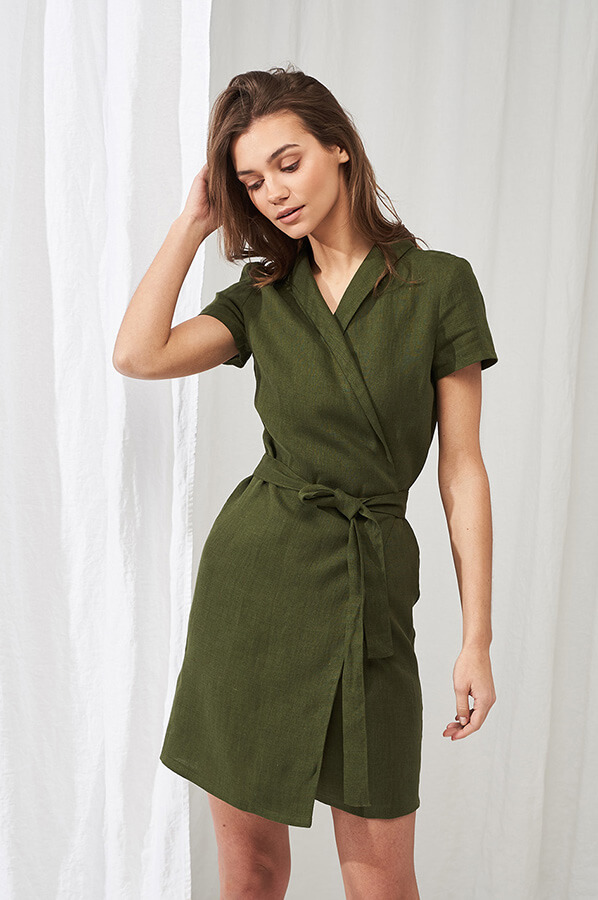 How to style linen dress for the office or formal look
Tunic is a great piece to incorporate into your office looks. You can wear it with a blazer or cardigan depending on the dress code in your office. Choose belted linen dresses to accentuate the waistline and control the fit – the belt creates an hourglass figure instead of creating a boxy look. Top off the look fit your desired jacket and loafers to have a comfortable yet smart casual appearance.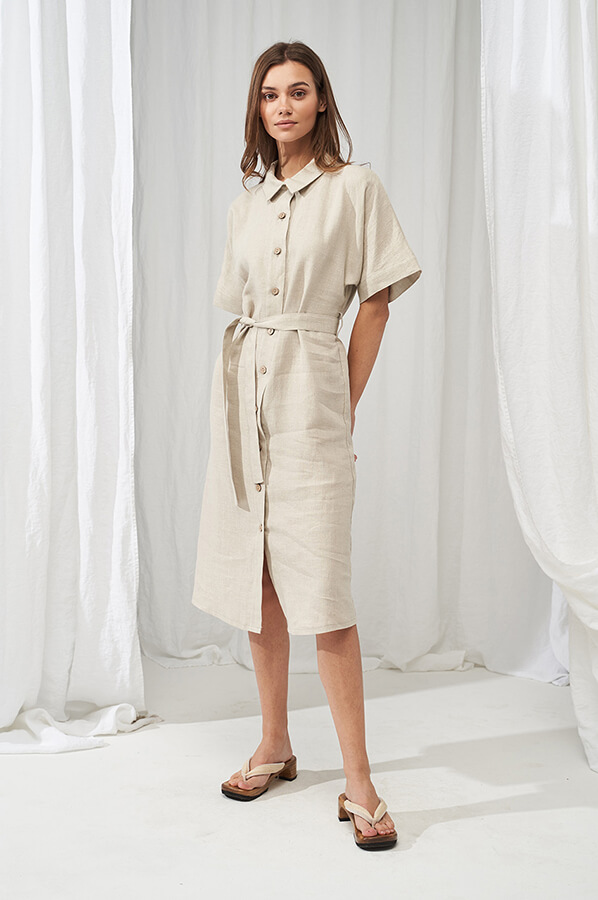 How to style linen dress for the occasion, elegant, and party look
Do we often get asked whether you can wear a linen dress to a wedding? Or is linen dress too casual? Of course, not! Depending on the style, linen dresses can be definite stunners. When choosing an occasion gown, keep the theme and location in your mind. For beach weddings, opt for circle-skirt dresses that will flow nicely in the wind. For romantic farmhouse weddings, choose figure-flattering dresses with an accentuated waistline. For fancy locations, pick maxi-length, vintage-inspired feminine dresses to feel confident and powerful. Luckily, our collection has so many beautiful and sophisticated designs to choose from. Maxi dresses, such as Aurora, and Odessa are definite stunners for special occasions such as weddings, and christenings or to create a heavenly bridesmaid look.