01/26/2023
How to style linen pants?
Share
There's no better item to wear in summer than a comfy pair of linen pants. Today's post is all about a special item able to withstand the test of time and make you feel comfy no matter what you are doing. Read below to find useful tips and even styling tricks!
Linen pants for women styling tips
Style your pants and tops regarding body proportions. It is best to look at yourself as cut in thirds from your shoulders to your toes. You want either one-third on top or two-thirds on the bottom. Do not divide yourself in half. When opting to wear an overly voluminous piece on your top (like an oversized jacket or loose-fitting top), a balance that out with a pair of pants with a fitted silhouette. And vice versa. This helps create balance and also keeps one item of your outfit as the focal piece of the look. For example, when wearing palazzo trousers, opt for a fitted top and tuck it into your pants to emphasize the waist and have that balanced and elegant look you are going for.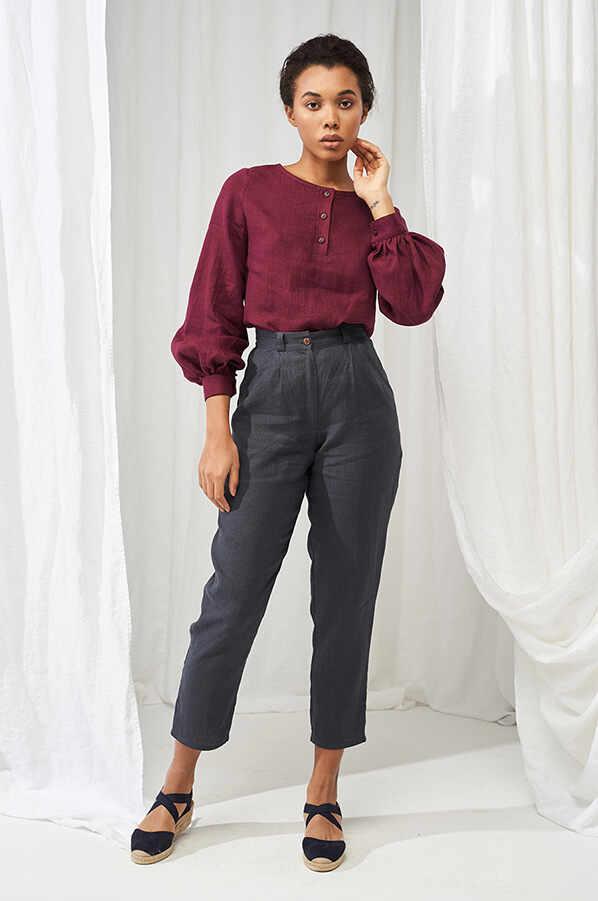 Go for monochrome outfits. Look elegant and chic even when you wear loungewear linen pants. Colors are everything when it comes to styling simple outfits but still looking incredibly chic. A monochrome or cohesive color palette allows you to look put-together and nice even if you are wearing your casual, loungewear pieces. For example, beige, white, and ivory shades are always in style and suitable for this mission. Black linen pants paired with an all-black top will also create an effective look.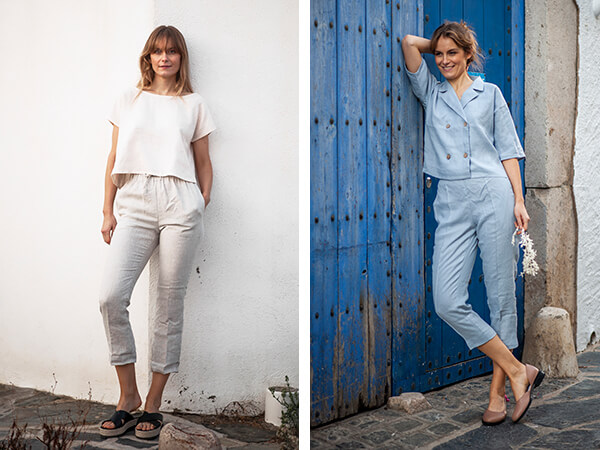 Leave linen drawstring pants and elastic waist pieces for loungewear. Although linen makes no compromises between style and comfort, it is best to leave those loungewear pants for casual activities. Drawstring or elastic waist pants have a relaxed and chill vibe to them so to have that vogueish look opt for straight-fit, wide-hemmed, or palazzo trousers. These pants are still super comfy, yet they have an elegant feel.
Invest in versatile straight-fit classic pants to create a variety of outfits. Whether you are building your capsule wardrobe, or you just don't want to splurge when it comes to clothes, a simple pair of straight-silhouette linen pants is a way to go. They pair nicely with any top you can think of and could be dressed up or down depending on the occasion.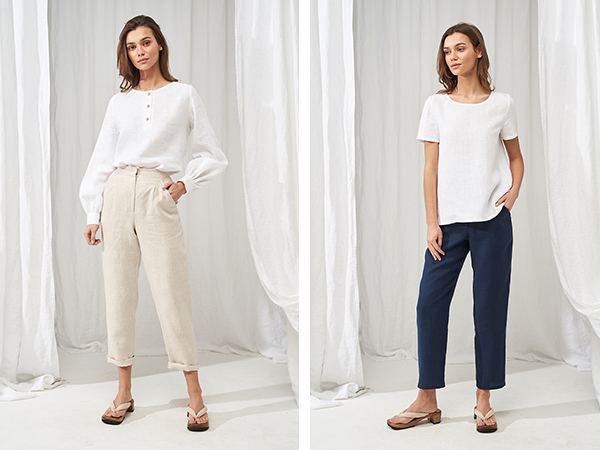 Experiment with accessories, jewelry, and shoes to elevate the outfit. Even the simplest outfits can shine in a brand-new light when paired with a bit of gold jewelry, a stylish woolen hat, or your favorite faux-leather jacket. You can also invest in a high-quality belt for your linen pants and always look put-together and dressed up for the occasion. It is all in the details so experiment with whatever comes to your liking.
Don't be afraid to wear linen pants in the fall. You can build beautiful fall looks with wool coats, denim jackets, and stylish hats. Wear warm thighs underneath your linen high-waist pants to stay warm, choose earthy or beige tones to have that fall-inspired vibe, and finish off the look with a stylish hat or a beanie and patterned scarf.
Why is linen the perfect material for pants?
Breathable and hypoallergenic it allows your body to cool down during summer and feel warm during winter. It absorbs moisture incredibly well which comes extremely handy during hot summer days – no sweat marks on your favorite pants. Linen pants for women have this distinctive crispy texture that immediately takes you to the summer paradise – there's no way you wear linen pants and don't get this feeling of walking on the beach on an island far away. And it is also effortlessly stylish making it easy to combine with other items, patterns, and even materials. Get creative when pairing your linen crop pants with denim, faux-leather jackets, and fun accessories. The good news is linen pants (depending on the style and silhouette) work well for different scenarios – from office wear to vacation wear.
How to pick the best linen pants for your body shape?
If you are petite, look for pants that are cropped length – cut off above the ankle. Showing a little bit of the skin will create an illusion of longer legs. You can also use heels to elongate your figure even more. Remember, flat shoes (like ballerinas or sandals) visually shorten the legs, so you have to tuck in your blouse or a shirt to create visual interest and appear a bit taller.
For taller women, be on the lookout for flared or wide-hemmed trousers. These give an hourglass shape and balance out your look. Wide-hemmed trousers are also super fun to wear since they have a chic and elegant look. Perfect for casual or sophisticated evening outfits.
For an hour-glass figure, opt for pants that accentuate the waistline instead of a boxy pair of trousers. You want to emphasize your beautiful feminine figure and not hide it underneath the fabric. If you want to wear your best pants loud and proud and show off your hips – choose fitted pant designs that curve out your body.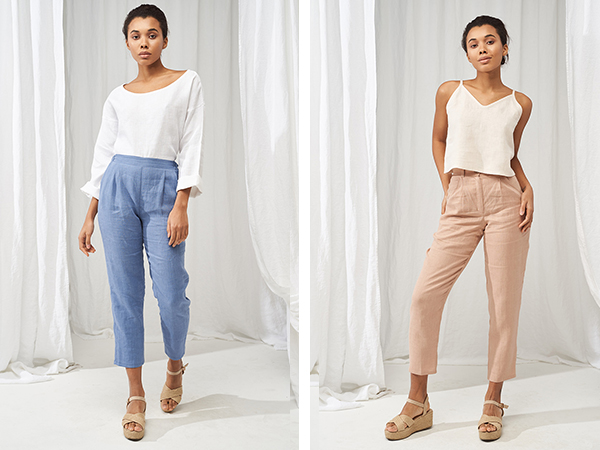 For narrow hips, choose straight-cut or boyfriend-type linen pants to balance out your look. Opt for midrise jeans to give yourself more shape and elevate your posterior. You can also roll up your pants to create a flare-like effect – it will be even more flattering.
What shoes to wear with linen pants for women?
Take the style of the outfit into consideration. For casual looks – pair your outfits with any flat shoes, like sneakers, and sandals to create a chic yet casual look for the day.
Elevate your outfit with high heels or platform boots for special occasions or dressier looks. These especially work with tapered linen pants, culotte pants, and wide-hemmed trousers and give an elongated silhouette as well.
Loafers work great for office or business casual looks when paired with straight-fit linen or wide-hemmed trousers, like palazzo. This combo would also work for those happy hour drinks or when meeting your friends for coffee.
For vacation outfits – espadrilles are the best way to go. Not only they are comfortable but vacation chic as well. Pairs well with any type of linen pants for women – from comfy drawstring trousers to linen wide-leg pants to create an elegant evening look.
Linen pants for women's outfit ideas
Summer linen outfit. Loose-fit trousers are the best way to go, especially if you love a good pair of white linen pants. Opt for drawstring or elastic waist trousers to ensure comfortable wear and pair with any short sleeve shirt you feel best in. Finish off the look with a hat to protect yourself from the scorching sun and of course, sunglasses to put that cherry on top.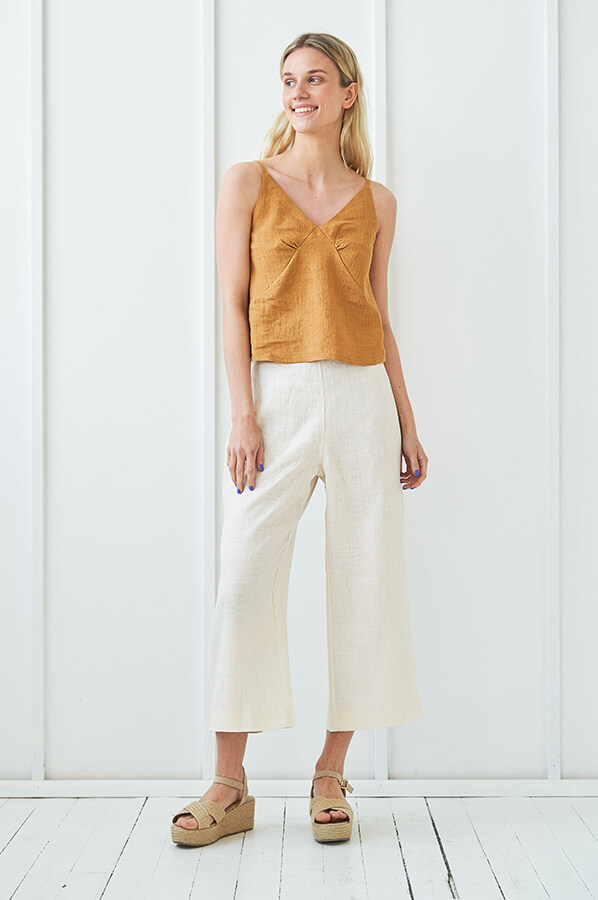 Linen work outfit. Opt for straight-fit trousers that accentuate the waist and choose V-neck or any long-sleeve linen shirt. Tuck it into your pants to emphasize the waist. You don't want to wear regular-length tops untucked because they will hide your waistline – you want clothes to accentuate your best features instead of hiding them. The Button-down is another great piece to incorporate into your office look. You can wear it unbuttoned for a relaxed feel and even roll up the sleeves if the temperature gets higher.
Casual linen look. Linen screams casual – choose any type of pants to accentuate your best features, and pair it with a simple shirt and maybe a denim jacket to give it a casual feel. Top off the look with a pair of sneakers or sandals and you are ready to welcome the day in style and comfort.
Dressy linen outfit. Palazzo pants work wonders for creating effective evening looks. They look preppy and sophisticated even if you choose to pair them with a simple spaghetti-strap tank top. The shape of these pants works for most body types and the outfit can be elevated into a stunning look with a touch of simple accessories and pair of heels.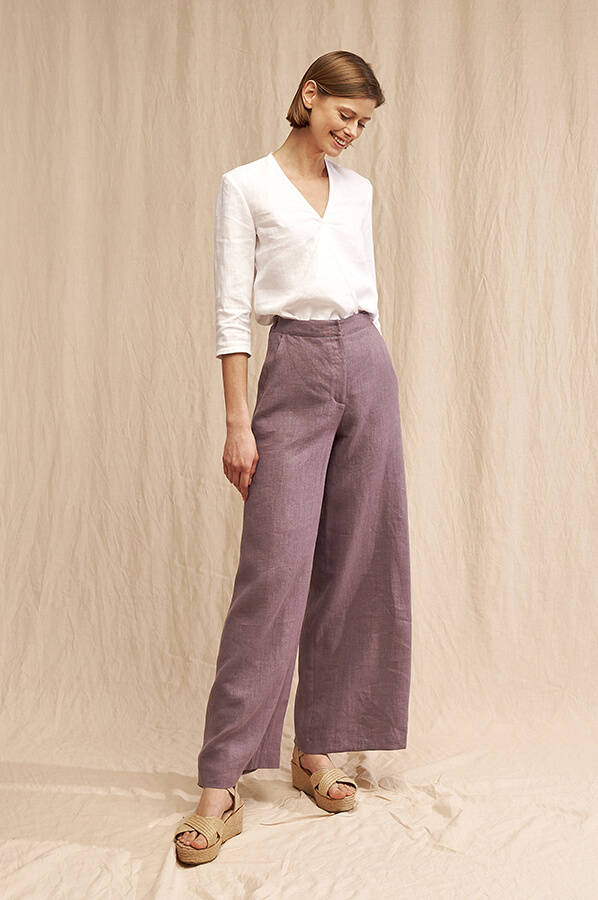 We think you might like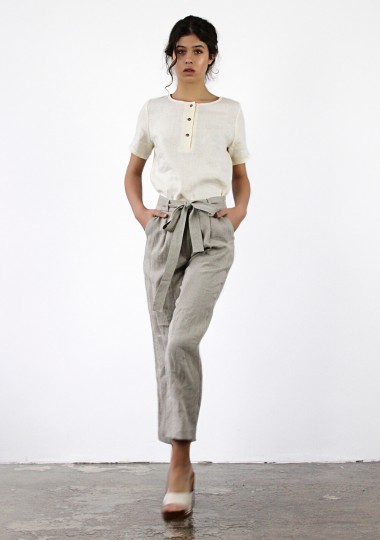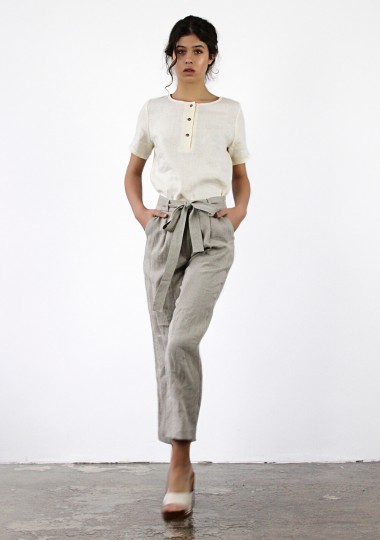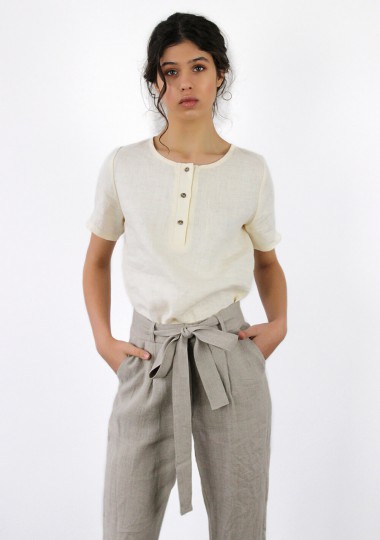 Linen pants Dakota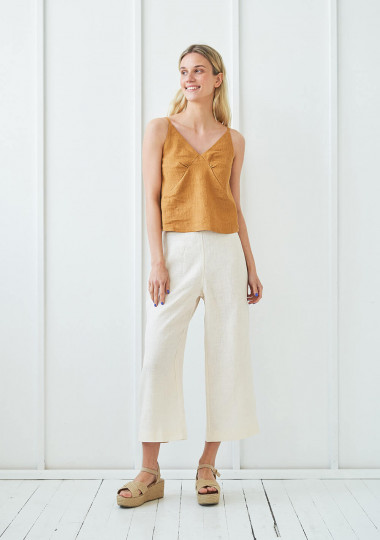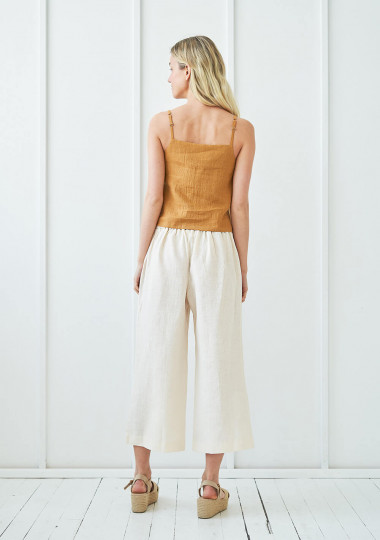 Linen pants Riley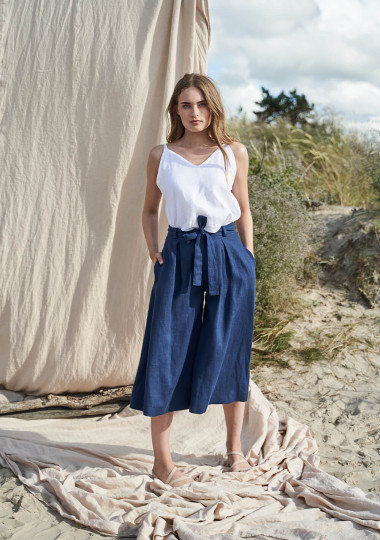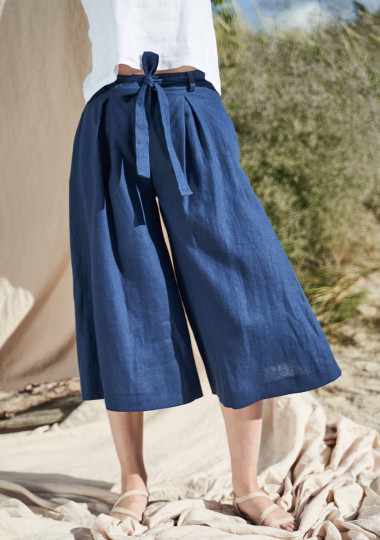 Linen culotte pants Ruth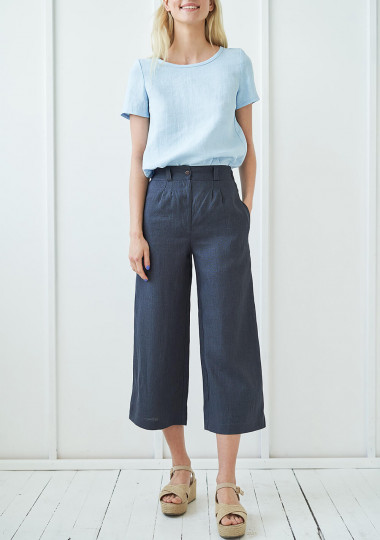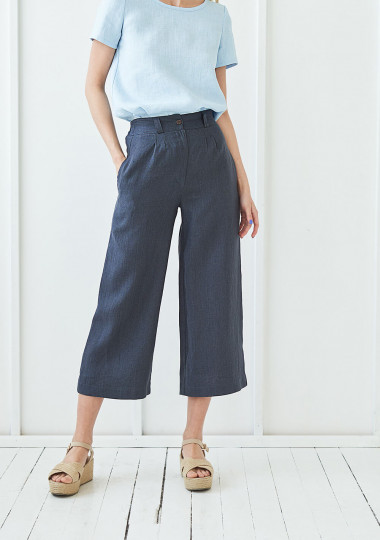 Wide leg linen pants Gemma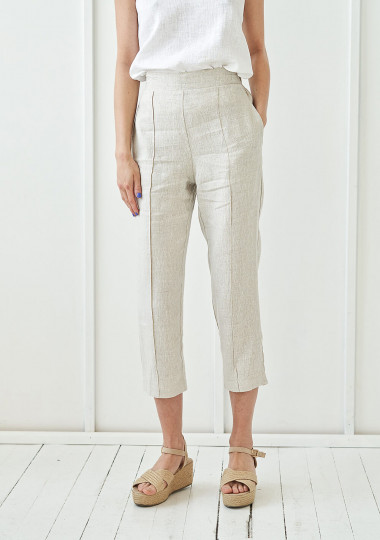 Linen pants Tori