08/24/2022
How to Choose Linen Curtains - an Ultimate Guide
Share
We all enjoy living in beautiful, cozy spaces and tend to invest effort and money to make our homes inviting, relaxing spaces. Curtains and drapes are one of the easiest and smartest ways to give home a cozy and lived-in look. Not only they prevent dust from coming into your room but help control the light, lend privacy and warmth, affirm interior style, and add texture and color. This blog post is our ultimate guide on how to choose linen curtains, what important aspects to consider and useful tips we learnt along the way of making them.
Why should you invest in linen curtains & drapes?
There is such a great variety of the fabrics you can choose for you curtain panels; it can seriously make your head spin. But we believe that natural linen curtains panels are one of the best ones on the market and we will explain why.
Linen is regarded as a luxury fiber because of its crispness and texture. Flax linen curtains do not pill, are non-allergenic, repellent to insects and UV resistant. Linen is a natural fabric – this aspect is definitely important to those who are leaning towards more sustainable and healthier ways of living.
Naturally stain repellent fabric will allow you to go a long time before having to wash your curtains. This comes extremely handy if there are kids in the house. Although linen is a thick and highly durable fabric, it also has a lightweight feeling to it, so the room immediately appears much lighter while still offering privacy. You can choose from different weave and weight to achieve different goals. From linen sheer curtains to those will lining or blackout.
Choose linen sheer curtains if you are on the mission to give the room aesthetic feeling and privacy while still appreciating as much of the natural light as possible. If you are choosing linen drapes for bedroom, opt for those with lining or blackout linen curtains – these will provide privacy and block the light for coming in to ensure the most relaxing good night's sleep.
How to style linen curtains and drapes?
Before shopping for linen panels, have a clear vision of what you want to achieve in your mind. This includes your budget, desired level of sunlight, measurements and of course the style of the curtains.
There are a few heading styles of curtains: rod pocket linen curtains, tab top linen curtains, and multifunctional heading tape curtains. Typically, we start looking for curtains and drapes when the interior of the room is almost finished so it is important to choose curtains that work for your overall room interior.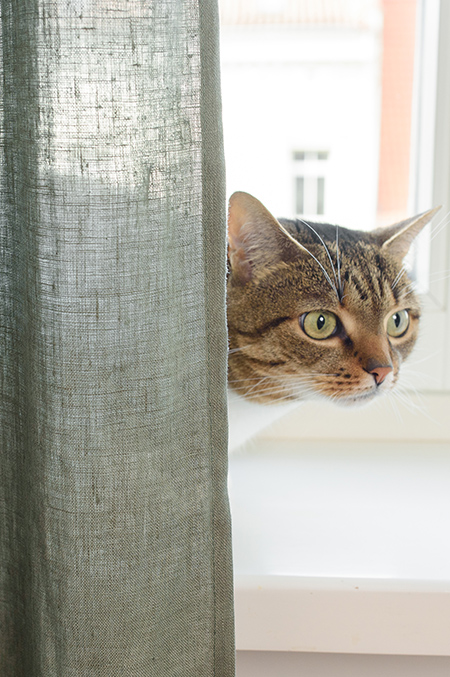 If there are a lot of details in your room and you need modest curtain panel choice, opt for monochromatic curtains in neutral, pastel shades, or in white color. This will provide a clean aesthetic and the room will appear light and inviting. Choose contrast colors, interesting prints, or color-block linen curtains if you love bold interior choices and want your curtains to act as the accent of the room.
Curtain rod seems like a small detail, but it can surely make the curtains pop and the help the room come together beautifully. Choose dark-coloured rod with light curtains for interesting contrast or go for natural wood coloured curtain rod to give the room warmth and natural feel.
What is the best length of the linen window curtains?
To achieve the best result possible, hang your drapes close to the ceiling. This provides an elegant look and makes the room appear taller. Of course, sometimes that is not possible so simply hang the curtains as high above the window as you can and prevent it from floating in the middle of the wall.
There are a few ways to choose the length of the linen curtain panels and the question you should ask yourself is what look you want to achieve. Choose floor-length curtains for living room, dining room and shorter - for kitchen or bathroom area. To determine the length you need, start measuring from your curtain pole or track. Above sill curtains usually sit 1 cm above the windowsill, below sill curtains end roughly 15 cm below the windowsill and floor length curtains usually end 1 cm above the floor.
Keep in mind that if your window has a radiator below it, the curtains should finish 2-3 cm above the radiator to allow the heat to come through. Also note that the tab top length is already included in the length of the linen tab top curtain panel.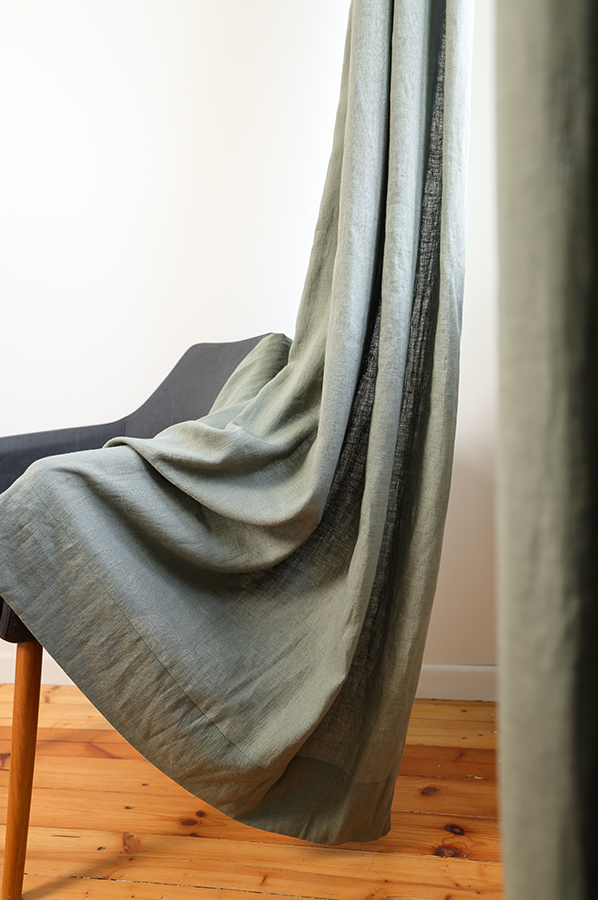 What is the best width of the linen curtains?
The width of the drapes is a helpful tool to create a lived-in, cozy aesthetic in the room. If they are too narrow, it may create an awkward and old-fashioned look. To determine the width you need, measure the width of the rod from left to right.
A common rule for displaying drapes properly says that finished width should be at least 1.5 times the width of your window to achieve a look of proper fullness. For example, if your window measures 60" wide (window width x 1.5 = 90"), you need curtains that will give a minimum width of 90" or 2 panels for that window. The standard fullness multiply by 1.5 while deluxe fullness multiply by 2.
Yes, deciding the width and the length of the curtain panels can give you a proper headache. If you are still unsure and doubtful – share window measurements with us and we will happily give you our best tricks and recommendations.
Are linen curtains hard to take care for: can you wash, dry them, and will they shrink?
It is very easy to take care of linen curtains. Put it into your washing machine and wash in lukewarm water (<40°C/104°F) because higher temperatures may weaken the linen fiber over time opt for a gentle/delicate wash cycle. On some washing machines this cycle may also be called "hand wash".
If you choose to tumble dry your linens, do it in cool or warm temperatures and do not over-dry. Take linen out when it is still slightly damp to reduce the fabric damage. But if that goes wrong and your linen drapes get that stiff texture, spray with water, and it should get back to its original condition in a minute. For white linen drapes, separate them for colored or black items to avoid color transfer.
Should you iron linen curtains?
Whether or not you should iron natural linen curtains is an absolute preference, but we do not think it is necessary. Linen dries extremely fast so you can simply hang your curtains while they are still damp, and you will have it dry in less than 20 minutes.
If you like your curtains and drapes perfectly smooth, the best and time-tested method for ironing linen is to keep it slightly damp so the heat of the iron would dry the fabric removing the wrinkles at the same time. When ironing flax curtains, iron the bad side of the panel. This ensures that if your iron start leaking water with calc, at least these stains will not be visible on the good side of the drapes.
When ironing dry curtains, spritz them with water and turn the iron to a linen (flax) setting which is usually 230 C/445 F. Smooth your curtain panel, position it on the ironing board, and iron carefully.