08/22/2022
What to wear with linen skirts?
Share
Feminine, chic, and effortless – only a few words that describe linen skirt perfectly. This incredible, modern piece presents multitude of ways to style it without having to put much time and effort. If you love experimenting with your style or simply need inspiration on styling linen skirts – look no further. This blog post covers lengths, colors, and ways to style skirt from linen to combine classy and elegant without making compromises on the comfort.
Start by choosing your length
Keep it classy with a linen maxi skirt
Long linen skirt is the definition of endlessly elegant. It is a unique piece that creates feminine look while also giving you the ability to hide what you do not want to be seen. Although maxi skirts are usually loved and appreciated by the older ladies – do not allow stereotypes to ruin the opportunity to wear it.
Choose the style that is fitted on the waist so it would complement your figure. A-line maxi linen skirts are the classic item that works for any figure but if you enjoy a bit of attention, opt for vintage-inspired circle skirt. This magnificent skirt design does wonders in photoshoots or celebrations; however, you can rock it for everyday elegant look too. Maxi linen skirt outfit makes it easy to always look put-together and feminine.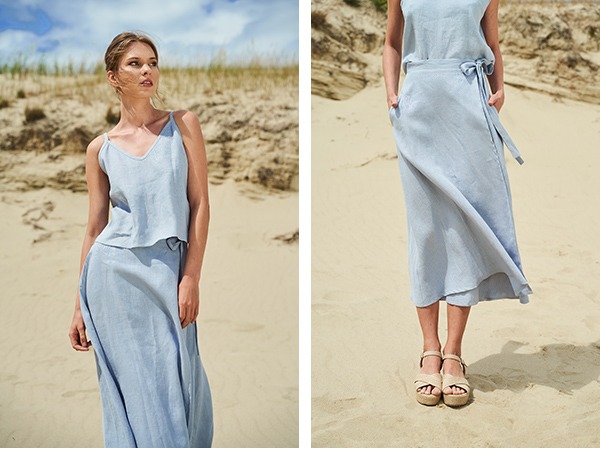 The perfect in between – linen midi skirt
Linen midi skirt falls between the mini and maxi skirts and is a perfect blend of style and comfort. You can still show of your legs but do it in a smart and casual way. Midi skirts are popular for office wear though you can still rock them paired with a casual, sporty sweater.
Choose linen midi skirt with buttons if you want a classic yet eye-catching look and pair it with a simple tank top for gorgeous everyday look.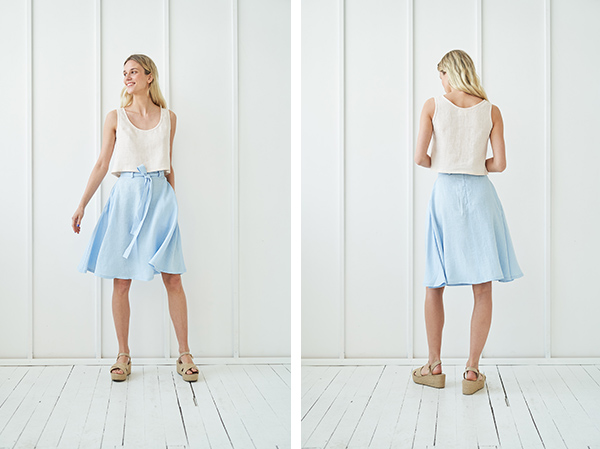 Show of those legs with a linen mini skirt
We tend to choose our skirt length depending on the season, but miniskirts deserve attention in colder seasons too. Use layering and warm thighs to adapt linen mini skirt to your all-weather wardrobe. Linen mini skirt works wonders for those who love to show of the legs and make playful, youthful style choices but do not get it twisted – miniskirts are not for young ladies only.
Choose the length that allows you to feel comfortable and classy and opt for classic design, such as linen wrap skirt. Authentic style has no age limit – wear outfits you adore proudly and confidently. Pair black mini skirt with white button-up shirt for effortlessly chic look. Simple yet effective look for dinner with your besties, date night or Saturday shopping session.

Choose your color
You already know this summer staple – white skirt
White linen mini skirt is an absolute classic that could be found in nearly every woman's' closet. This versatile color is suitable for every occasion – from day in the beach to dinner with friends and even when running errands. A white linen skirt always looks neat and elegant, and it is also harder to notice wrinkles on white linen. A useful tip for those who don't want to spend extra time on their clothes. White linen skirt outfit goes brilliantly with many other colors, but you will create the most beautiful combinations by combining this skirt with soft, pastel colors such as blue or pink.
Feel free to combine a white skirt with a cotton t-shirt to create a casual, comfortable combination. You can complete the combination with a stylish scarf, or on cooler days, simply throw on a button-down shirt. It is a myth that white color is suitable only for the beach. It is important to pay attention to the transparency of the fabric and always choose nude-colored underwear. In this way, you will protect yourself from unpleasant situations and always feel comfortable.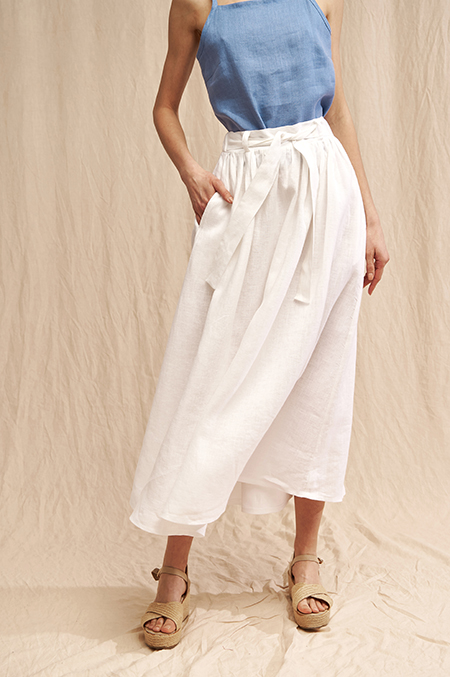 Go back to basics with ultimate classic – black skirt
A black linen skirt is an integral part of every woman's style, and do we really need to ask ourselves why? Black is the most versatile color that goes with any other shade, always looks stylish and elegant, and also never goes out of style. We all know that black is also visually slimming, so it is suitable for those who want to feel extra confident in their clothes.
This color is probably most often found in the time capsule wardrobe and is suitable not only for everyday life, but also for special occasions. Combine your black skirt with a white tank top for everyday – look that takes 5 minutes to create and endless hours to enjoy. if you are looking for a classic combination for work or if you want to look professional, opt for white button-down shirt and the same skirt.
A long black skirt combined with a cream color creates girly and chic combination suitable for lunch with friends, a date, or a night on the town. Although black is a dark and moody color, there are multitude of ways to brighten it up. Choose bright blouses, liven up your outfit with accessories or a stylish handbag.
Say yes to bold colors
If you like boldness and adventurous choices in life - choose bright colored summer linen skirts to add playfulness to everyday life and make your style unforgettable. A yellow skirt will instantly brighten up your mood - you just won't be able to stop smiling when you look like a glimpse of the sun. Combine your yellow linen skirt with a white blouse - this way the outfit will look harmonious and balanced. The red skirt symbolizes femininity and passion, so it is perfect for women who boldly pursue their goals and are not afraid to stand out from the crowd.
To complete the look, choose blouses or shirts in neutral colors. The color of natural linen will be perfect, but a monochromatic look will take the outfit to another level. Blue color symbolizes the sea, peace, so it is perfect for vacationers and those who, at least in their thoughts, want to go to the sea. Choose a blue skirt if you like balance and harmony in life and combine it with the shirt in white or ivory. If colors really have the power to influence our mood, why not dressing up boldly and brightly?

Choose your top
Elegant blouse
Take the design of your linen skirt into account and you will be able to create wonderful outfit combinations with the elegant blouse, such as wide sleeve, wrap top, or a blouse with a refined V-neck. You can follow our infamous rule – pair loose-fitting skirt with fitted top and vice versa.
This practice ensures balanced and harmonious look. For example, wide circle skirt will look breath-taking when paired with a tight-fitting blouse and wide-sleeve shirt will look incredibly chic when paired with linen pencil skirt.
Crop top
A crop top looks great with high-waisted skirts - this creates a balanced, harmonious outfit that is particularly comfortable to wear. Since the blouse does not need to be tucked in, you will feel comfortable and always look neat. It's a myth that crop tops are only suitable for thin women - try it yourself and we guarantee that you will diss this stereotype. Our skirts are designed so that when you choose the right length, it will cover the stomach area and you will always feel comfortable and confident.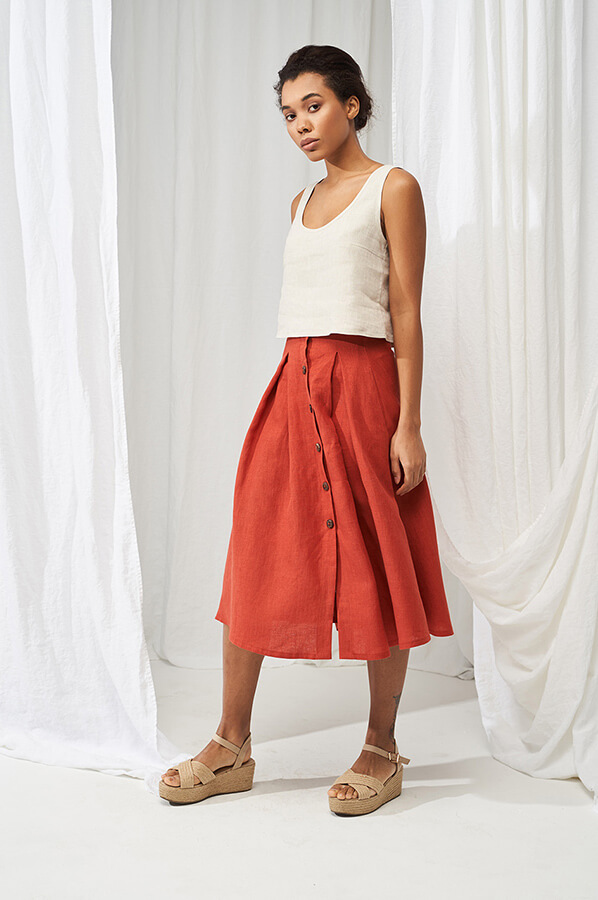 Simple shirt
If you wear skirts every day, you probably don't think about a blouse and wear the one that appears first in the closet. And rightly so! Linen skirts go well with simple, comfortable blouses. You can also wear it with long-sleeved blouses – roll them up for a comfortable, relaxed look.
If you want to accent the waist and look more feminine, tuck the front of the blouse into the skirt (you can also tuck the entire blouse). This skirt and top set will emphasize the waist and show off the details of the skirt, such as ruffles or belts.
Choose your shoe
Heels
Heels have a transformative power to elevate even simplest look. We all use heels for our own advantage when we want to look taller and dressed up for the occasion. Although it is only a simple touch, but heels give us a better, feminine posture and impeccable elegant look. Pair heels with maxi skirts if you are attending stylish wedding this summer or use as contrast piece to spice up the casual look.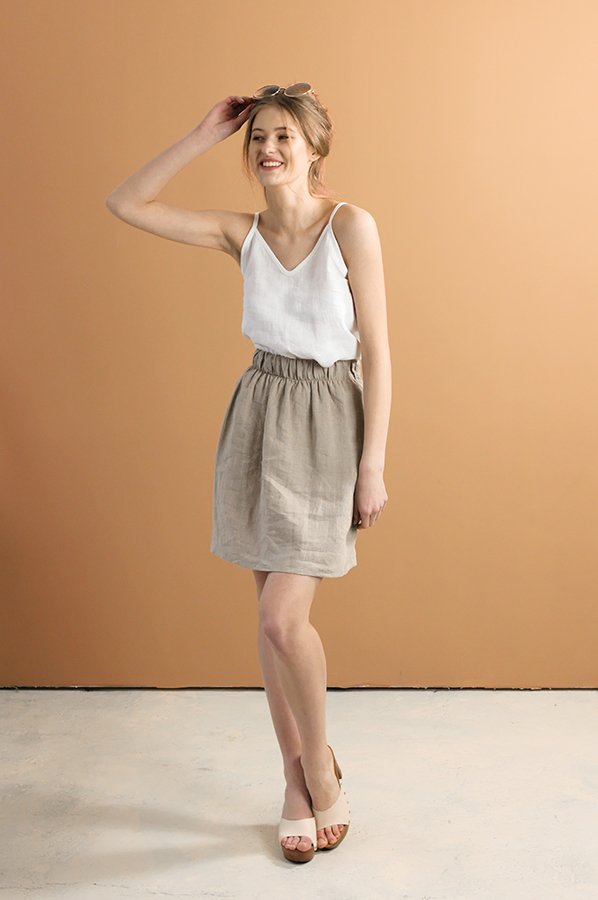 Sneakers
Yes, you can choose comfort and still look chic. Choose versatile pair of sneakers (ideally, in white) and pair them with your linen skirt for everyday casual wear. Sneakers elevate the look and give it a relaxed vibe – you will surely look like a fashion blogger or model-of-the-duty without having to put too much effort into your look. You can pair your skirt with a hoodie or sweater, tuck in the front and top of the look with your favorite pair of sneakers. This is a nice casual look for running errands or walking a dog in the park.
Sandals
Can you even imagine summer without a pair of your most comfortable sandals? It is an ideal shoe choice especially during travels. Sandals are a winner choice for their versatility too. It is easy to combine this shoe with any outfit but if you want to make the best of this item, pair it with midi lengths skirts in earth-tones, such as Earth Brown or our beloved Moss Green color.
We think you might like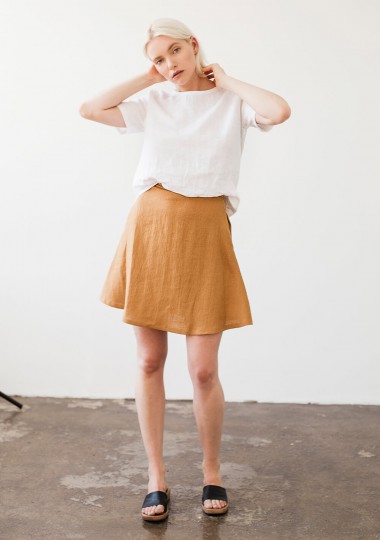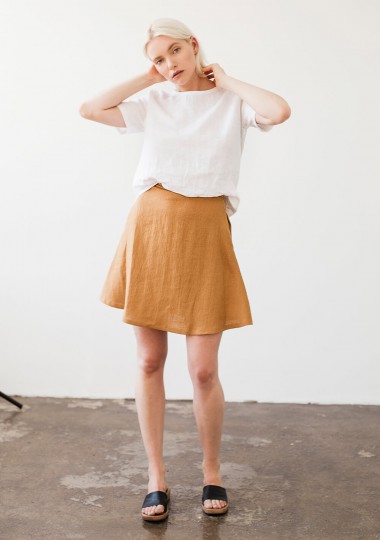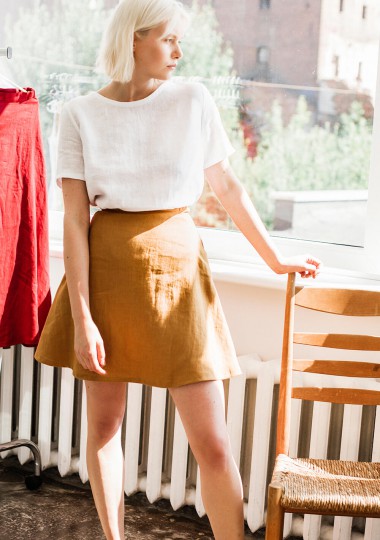 Linen mini skirt Adelle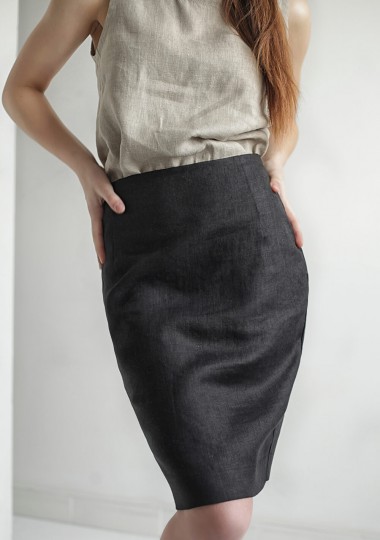 Linen pencil skirt Celine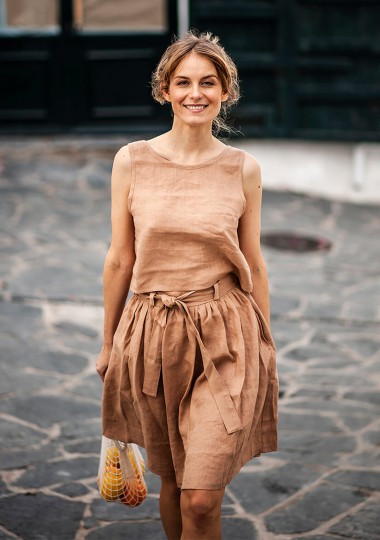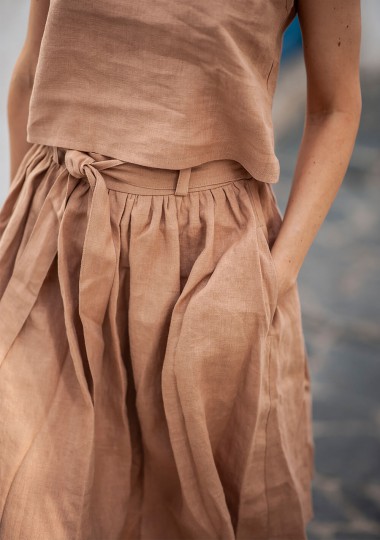 Linen midi skirt Sage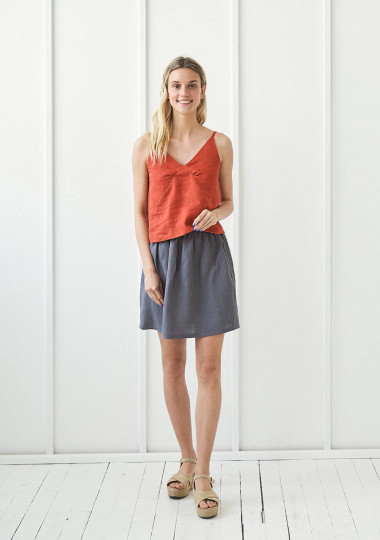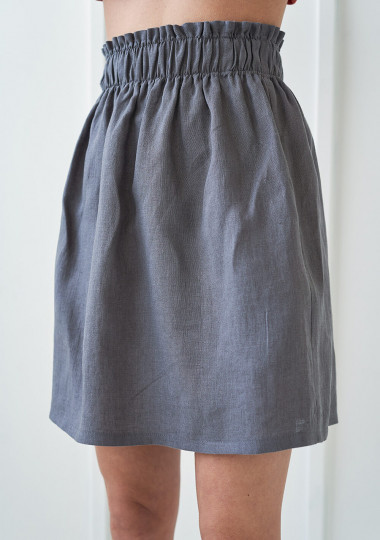 Julie linen mini skirt