05/29/2020
What to wear with linen skirts?
Share
Nothing beats the chic and flare look of a linen skirt - it makes you feel girly, uplifted, crispy texture, and vibrant colors always take the outfit to another level. Today's post is our wholehearted dedication to this iconic clothing piece; three different linen skirts for three different occasions. Let's dive in!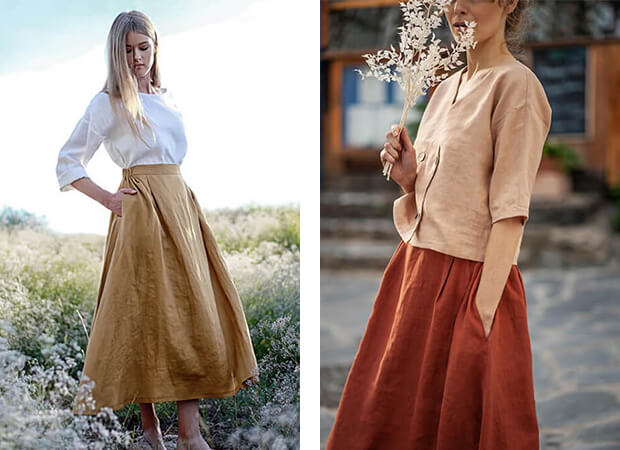 Effortlessly stylish is what we all seek on a daily basis
Here's a casual outfit idea that takes minutes to style and you can surely find these two pieces in your wardrobe. Pair white maxi linen skirt with a button-down shirt (preferably in light blue or pink color) and tie the front. Roll up the sleeves (that's totally your preference) top it off with some jewelry and comfy shoes. Sneakers or sandals – that's up for you to decide. Oh, and you're more of a midi girl, we offer linen midi skirts as well!
There are days you feel like looking extra or you are simply attending a cocktail party. Nothing to wear? Well, we've got you covered! Linen pencil skirt (preferably in dark colors, like navy blue or black) and a fancy top with a V neck or wide sleeves will makeyou look powerful, sophisticated, and stylish. Our advice is to mix a fitted top with a looser bottom if you want a balanced look rather than looking boxy.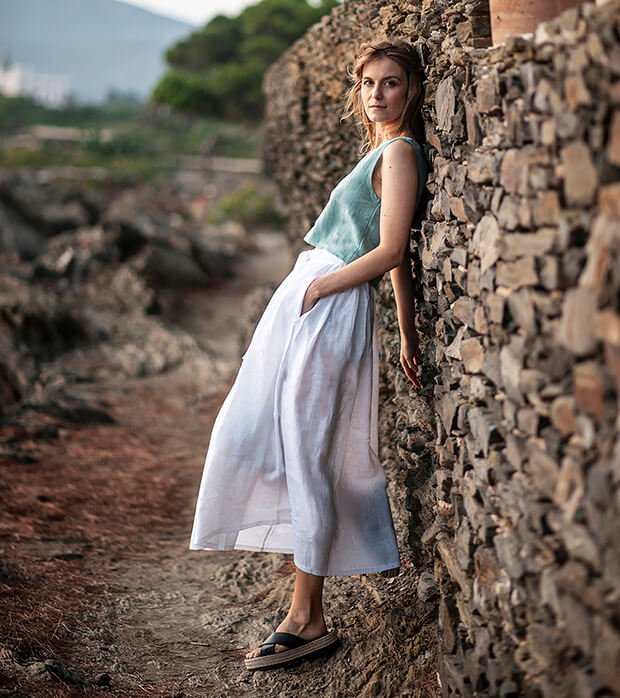 Get yourself ready for laying in the beach
Last but not the least, get sunshine ready for the beach. This time we are rocking a linen mini skirt with a simple t-shirt that is easy to throw on & off. In case you will feel like going to the water straight ahead. This outfit doesn't require any specific color scheme though we recommend keeping it light and colorful. Sometimes the way you dress can actually affect your mood and emotions. Why not keeping it sunny?
These are just three looks though you can create a lot more while experimenting with different linen clothes. Luckily, we have so many linen skirts for women to choose from that today may be the day you will find your impeccable linen skirt forever.